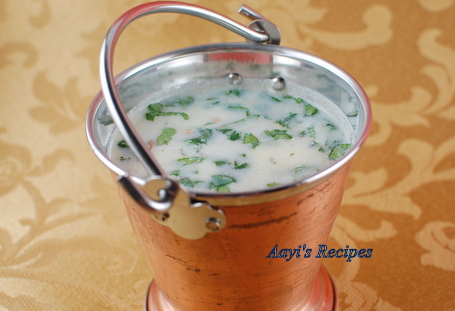 Buttermilk is called Tak (or Taak) in Konkani. Taka kadi is one very simple dish, where buttermilk is seasoned with either garlic or normal seasoning. This is not a Konkani specific dish, as most of the South Indian cuisines have one or the other variations of this. At my home, my parents preferred the garlic version. We love to eat it with rice or drink it as it is. I make the garlic version and this version with normal seasoning alternatively so that we don't get bored of it.
Usually the Konkani version does not have besan (gram flour) in it. I add it to give a little thickness to kadi. We usually eat it with rice. If we want to use it for drinking, I make spicy buttermilk.
I have made another small modification to this recipe. I use few green chillies and use buttermilk chillies (or Taka mirsang) to give extra flavor.
Ingredients:
3 cups buttermilk or 1 cup thick yogurt thinned down with water
3 green chillies
1 tea spn mustard seeds
4-5 curry leaves
A pinch asafoetida
1/2 cup water
2-3 sprigs coriander leaves
1 tbl spn besan (gram flour) – optional
3-4 buttermilk chillies – optional
Salt
Method:
Heat oil and add mustard seeds. When they start popping, add green chillies, curry leaves and asafoetida. Add buttermilk chillies and fry for few minutes. Add 1/2 cup water. Mix besan in 2 tbl spns water in a bowl to remove all the lumps. Add this to the seasoning and bring it to boil. When the mixture slightly thickens, add salt and take off heat.
Add the buttermilk. Mix and then garnish with coriander leaves.
Serves : 3-4
Preparation time : 10mins
PS: Adding the buttermilk chillies to seasoning and then adding buttermilk makes the chillies slightly soggy in the buttermilk, but allows the kadi to soak some flavors of chillies. If you don't like soggy chillies, fry them separately, crush them slightly and add them to the kadi just before serving or serve them separately in the plate so that everyone can add as much as they like while eating.
Do not cook the kadi after adding buttermilk. Heat will separate the buttermilk. So we add buttermilk after taking it off the heat. You can still reheat the kadi if required, but do not boil it.