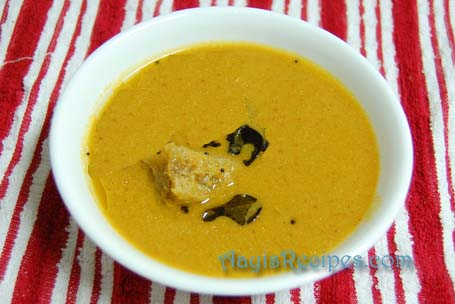 Some time ago, I had posted a recipe for ash gourd(kuvaLe) koddel without coconut. I had also promised to post this version which is very popular among Konkanis from South Kanara.
This recipe is sent to me by my friend Aruna. This a sweetish, spicy, sour gravy. I have tried this many times now.  Once I start, I can't stop eating this. So whenever I cook this, I make a huge batch and go on for 2-3 days. Its that good. I have seen a couple of different recipes for this, but I loved this version very much.
Ingredients:
2 cups big pieces of ash gourd
3/4 cup fresh/frozen coconut
4-5 red chilies
2 green chilies
1/2 tea spn tamarind extract or 3-4 pieces of tamarind
1 tbl spn jaggery
A pinch turmeric
Salt
1/2 tea spn mustard seeds
4-5 curry leaves
1/2 tea spn rice
1/2 tea spn cumin seeds
1/2 tea spn urad dal
1/2 tea spn coriander seeds
1/2 tea spn sesame seeds
Method:
Dry roast cumin seeds, coriander seeds, urad dal, rice and sesame seeds. Roast red chilies.
Roast coconut till it turns out slightly brownish. Grind all the spices, chilies, coconut and tamarind to a coarse paste.
Cook ash gourd pieces in water along with green chilies, turmeric till they are cooked but not mushy. When they are done, add the ground paste, salt and jaggery. Cook for about 7-8mins.
Heat a little oil and add mustard seeds. When they start popping, add curry leaves. Pour this seasoning over the gravy.
Serve hot with rice.
Serves : 2-3
Preparation time : 20mins