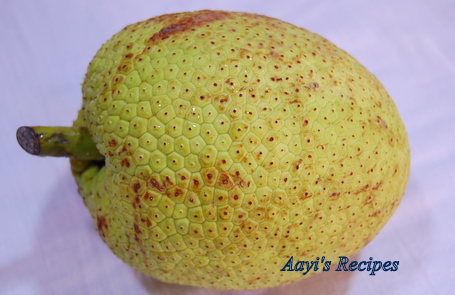 These are two types of vegetables from our garden, both from Moraceae family(same family as jackfruit). These are two of the most popular vegetables used in everyday cooking, during season.
PS: Some people call the first one as Neerpanas or Jeev Kadagi. We had a big discussion about this before on this blog, I am using the names that we use at our place with descriptions of why we call them so. Please feel free to call them by the name you want, here the focus is about the culinary usage and not on the names again. Thanks for understanding.
Palapanas(Konkani) or Ber Halasu(Kannada) or Breadfruit – The reason we call it Ber/Beru(Kannada) or Pala(Konkani) – meaning root is, the new saplings of the tree come from roots of this tree. These fruits do not have any seeds in them. The outer skin does not have very sharp spikes. The leaves of this tree are slightly thinner and smaller than the other variety. The tree requires a lot of water to survive.
Discard the outer green layer and white portion in the center(which is clearly visible).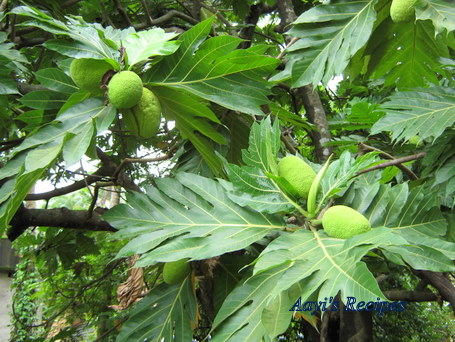 Neerpanas(Konkani) or Neer Halasu (Kannada) – We could not find the English name of this variety. This is not as common as the above variety. I was not aware of this variety before my marriage. Looks like this is prominent below ghats. The tree requires lot of water to survive. Unlike the above variety, these have many seeds. New plants grow from these seeds. The tree almost looks like breadfruit tree, but the leaves are slightly bigger and thicker. Unlike the breadfruit, they have spikes all over them.
When the seeds are tender, they can be used in any preparations, but when they get hard, they have to be discarded. Sometimes the seeds are peeled to remove the outer hard skin and then used in dishes. Neerpanas tastes a lot like tender jackfruit.
Neerpanas cannot be used in cooking when it ripens. We open the fruit and take out the seeds. The seeds are a delicacy liked by many. We normally roast them on open fire, take out the hard skin and eat them.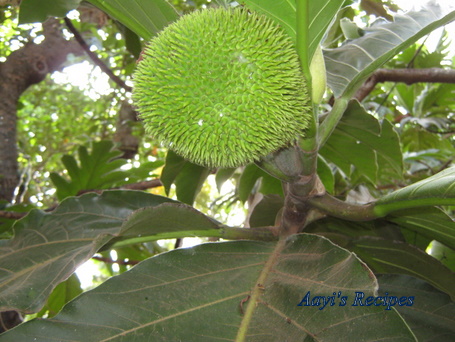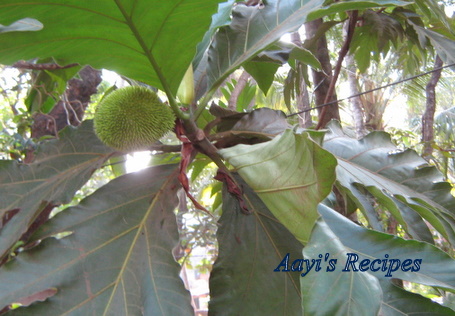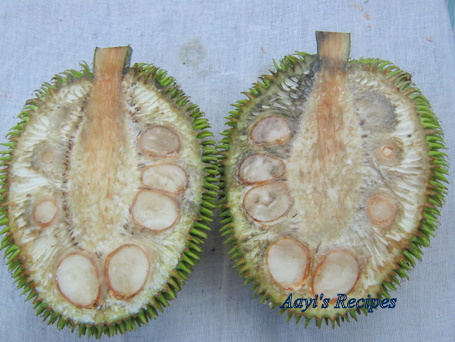 When you cut into a fresh palapanas or neerpanas, a white colored gum comes out of it. So usually while cutting them, we immerse them in water. Also some oil is applied to palms as well as knife.
Breadfruit/Palapanas can be used in – Breadfruit and peas sidedish (Otane randayi), Vegetable sidedish(dhoddak/huggi), Sprouted moong daal side dish ( Muga moLe randayi), Rava fry/phodi and many other dishes like dry sidedish(Talasani), chips etc, which I am going to post in future.
I will post the recipes with Neerpanas soon.