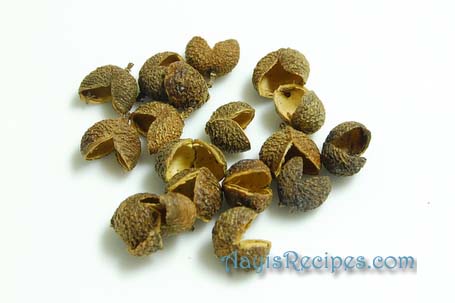 This is my entry to "Mistress of spices" event hosted by Mythili.
Why did I select this least known spice?
When I read about this event, two things immediately came to my mind. The first was 'Asafoetida', the most famous spice used in most of the Konkani food. The second was Teppal, the most popular 'Konkani spice'. Now, why am I calling it a 'Konkani spice'? Because till today I haven't seen anybody else using this spice. But after reading this and wiki, I came to know, its used in some other cuisines also. I thought I should write about this so that my Non-Konkani readers will get to know about this spice.
We get to see a lot Teppal trees at our native. The trees have very strong thorns. I still remember, when we were kids, we used to fill the fruits of green, fresh teppal into piston like cylinders called "Petnoli". The piston is pushed to pop the teppal with a 'phuut' sound like a bullet. We used to aim it at each other like pistol, unlike any other fruit used in petnoli, teppal hurts more :D.
Mostly grown in : the states of Maharashtra and Karnataka in India.
Part of the plant : These are the fruits of the plant. The tree bears fruits in Monsoon. During this time, the fresh fruits are used for all the dishes. They are dried and stored for the use in other seasons. When dried, they open up and the black colored seeds can be seen. The seeds are discarded and only the outer layer of the fruit is stored.
Appearance : When they are fresh, the fruits are dark green in color. They dry to a dark brown color and split to reveal a creamy white interior.
Medicinal uses: A decoction of teppal is a good cure for dysentery. The spice is known for its anti flatulent properties. (I have picked this up from a book, but haven't actually seen teppal being used for any medicinal uses).
Uses in kitchen : This is mostly used in Fish preparations and a few vegetarian dishes, with a coconut masala. This has a strong woody aroma, so it should not be ground with coconut (if it is ground by mistake, the dish gets a very strong and biting taste. The tongue starts tingling 😀 ). While using in gravy, these are slightly crushed in 1 tbl spn of water and added to masala. At the time of eating, teppal is not consumed and discarded.
Well, this is all the information I have about the teppal. If you know anything more than this, please feel free to leave a comment here and I will update this post.
Some recipes that make use of teppal are Pumpkin-peas masala(Dudde randayi), fish curry, fish sidedish, chutney,  ridgegourd gravy(gosale ambat), bhende sukke and many more.
Fresh teppal –
After drying
Seeds separated. Discard the seeds.
Dry some more after removing the seeds.
Seeds separated. Discard the seeds