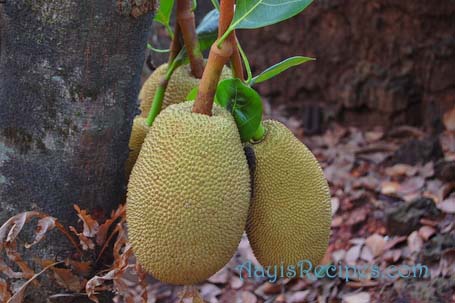 Ever since I came back from India, I am trying my best to get adjusted back here. My feelings are also something similar to Sia's. I am missing home terribly and have become very very lazy. So thats the reason I haven't replied to any queries here or the mails. I am sorry about that.
While in India, I took pictures of seasonal fruits and flowers. So apart from traditional recipes, I am going to post them too. I am going to post them once in a week so that they make me feel good.
Coming to the fruit of the day. It is going to be jackfruit. There are two main varieties of jackfruit that are very popular at our place. Both of them look exactly same. Unless they are cut open, you cannot make out the difference (atleast a person like me can't make out).
One of them is the kind where you cannot cut them open with knife. Check the picture below. We call it "tiLvo panas". One should be very careful while eating these as they are very slippery and cause choking if not careful. My dad and I simply love this. Even the 90% of jackfruit lovers can't stand this.
Second one we call as "kappo panas". These are cut open with a knife. It looks like this picture. Here the pods are firmer and you don't have the problem of choking.
Both kind of jackfruits have a kind of glue which oozes out when they are cut. So before handling them, a little oil (preferably coconut oil) is applied to hands and the knife. Cut this fruit on a paper/plastic to avoid mess.
Jackfruit trees bear many fruits during season. Like coconut, every part of the tree is very useful. Raw jackfruit is used in many dishes. When it gets ripe, the fleshy sweet pods are eaten. The seeds are saved and sun dried. These seeds are used to make many dishes. The leaves are used to make hittu/khotte.
The dried tree trunks are used to build houses.
More information about jackfruit from Jai and Bee.