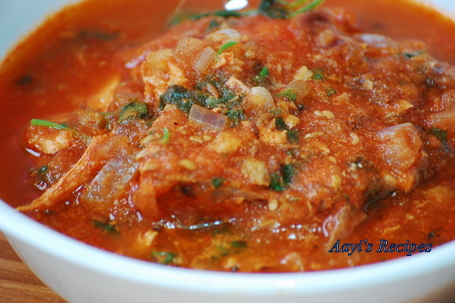 I am using salmon a lot these days, because of the high Omega-3 content in this fish. Usually I bake it or make some spicy dry dish, something we both really enjoy. This time, I wanted to try it in this spicy gravy. This was inspired by a fish gravy I tasted at an Indian restaurant here 2 years ago. I have not seen this recently on their menu. We had a very satisfying lunch with rice and this gravy.
Ingredients:
1 big salmon fillet (about 18oz)
3/4 cup finely chopped onion
2 big tomatoes – blanched, peeled and pureed
1 tea spn ginger
1 tea spn garlic
1 tea spn chilli powder + 1/2 tea spn to spread on fish
2 tbl spns chopped coriander leaves
1 tea spn cumin seeds
Oil
Salt
Spice powder(Do not roast. Grind to a coarse powder):
1 tea spn coriander seeds
3 cloves
1″ cinnamon
Method:
Spread salt and chilli powder on salmon.
Heat tava and keep the spiced part down on tava. After 1-2min, turn upside down. Leave for 1 more minute. Turn again. Now slowly pull out the skin. Spread some more chilli powder and salt on this side. Let the fish get done from both sides. Take off heat and cut it into about 1X1 inch pieces.
Heat oil. Add cumin seeds. Add onion, ginger and garlic. Fry till they turn brownish. Add the tomato puree, spice powder and salt. Cook till the gravy thickens a bit.
Slowly slide the fish pieces into gravy. Let it cook for about 1-2mins. Garnish with coriander leaves. Serve hot with rice.
Serves :2
Preparation time : 30mins
Pictorial –