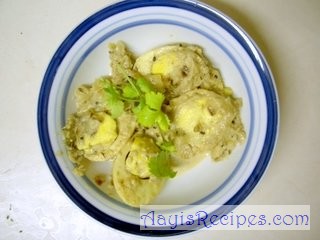 I have been thinking from many days to share some of my favourite egg recipes here, mainly because, I will forget them if I don't write them down somewhere. I feel this is the best place to store the recipes, since this will be helpful to me and others who are interested. So this week I will share all the egg recipes which I tried in last few days.
Few days back, I was searching in google for some delicious egg recipe. This sesame egg recipe caught my attention(I am extremely sorry for not saving the original recipe link). I was surprised when I read the ingredients. Milk, sesame with egg !!!. Still, I thought let me give it a try. When I prepared this, I simply loved the taste.
Ingredients:
Egg(boiled) 3
Sesame Seeds(white Til) 3 tbl spns
Onion 1
Mustard seeds 1 tea spn
Coriander powder 1 tea spn
Garam masala 1/2 tea spn
Green Chilies 4
Milk 1 cup
Cumin Seeds ½ tea spn
Oil 2 tbl spn
Salt
Method:
Grind green chillies and sesame seeds to get a smooth paste adding a little water if needed.
Heat oil, add mustard and cumin seeds. When they start spluttering, add onions and fry till onions become slightly brownish. Add the sesame-chillie paste and fry for 5min.
Now add milk, mix and put boiled eggs (put some slits into the egg so that the masala reaches the yellow part). Cover and let it cook for 5-6 minutes.
Add salt, garam masala, coriander powder and let it cook for a while.
Serve hot garnished with coriander leaves.
Serves : 2
Preparation time : 20min