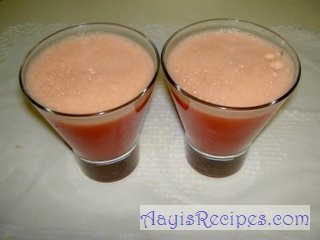 When I was a kid, watermelon was a must at home during summer. Since I absolutely love the chilled watermelon pieces (my mom used to cut them and keep in refrigerator, but she never knew how the pieces disappeared within an hour!!!), my father brings watermelon whenever he comes across them anywhere in the market. My mom never wasted the white part of watermelon, she makes the delicious sweet dosas and normal dosas with them.
Recently, when I bought watermelon here, the guy who was selling them told me, the watermelons having green color and a yellowish patch on one side are the sweetest ones. He was right, the one which I had bought was very very sweet. So now, I am daily having a glass of watermelon juice for breakfast :).
Ingredients:
Watermelon pieces(chilled) 3 cups
Sugar 1/2 cup
Ginger 1″ piece
Pepper 3-4
Method:
Blend all the ingredients together. Serve with ice.
Serve this immediately after preparing it, otherwise it becomes watery.
Serves : 2
Preparation time : 5mins