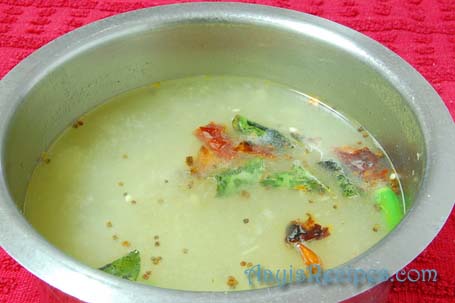 Appe huLi is a signature dish of Havyaks. I have been searching for this recipe for a long time now. There are many ways of making this HuLi. Most of the times, it is made with a special kind of raw mangoes called appe midi, salted for a long time. Apparently 'appe huLi concentrate' is also available in markets.
Since aayi has tasted this dish at one of her friend's home, she told me it is thin and many times people drink it like rasam. Recently when going through a magazine, I found a recipe for aape huLi. Since it was very simple and didn't require any concentrate or preserved mangoes, I tried it immediately. Did I mention I drank half of it while cooking itself?. I had to make it all over again because it got over in one go.
Once my mango stock got over, I tried the same with kokum. One of my friend had told me appe huLi can be made with kokum. I haven't heard of this version before. But call it whatever you want – either appe huLi or mango rasam or mango drink or kokum kadi, it is THE best.
This dish is perfectly suited for the kind of extreme cold weather we are having – though it is a perfect summer drink, I am making this in winter here. It has such a soothing effect for the throat.
Ingredients:
1 cup raw mango pieces (do not include outer skin)
1 tea spn jaggery
Oil
1/2 tea spn mustard seeds
2 green chilies
2 red chilies
A pinch asafoetida
3-4 curry leaves
Salt
Method:
Cook the mango pieces in water. Grind it to a paste.
Cook the paste with jaggery, salt and water. Add enough water to bring it to a consistency of rasam.
Heat oil and add mustard seeds. When they start popping, add curry leaves, green chilies, red chilies and asafoetida. Add this to the dish.
Serve.
Serves : 2
Preparation time :10mins
PS: Increase or decrease the amount of mangoes depending on the sourness. The mangoes available here were not at all sour.