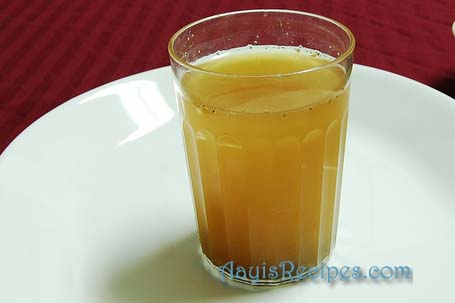 Today is celebrated as "Ram Navami" by Hindus. This festival is celebrated on the 9th day from Ugadi, Hindu new year. Ram Navami is celebrated as the birth day of lord Rama, from epic Ramayana. On all the 9 days from Ugadi to Ram Navami, poojas and bhajans are performed in the temples.
The main attraction for the kids in this festival is prasad that is served after the pooja. A very tasty spread of food (naivedya/naivedyam – food which is offered to god) is prepared and offered to god and then distributed among the people gathered for the pooja. Obviously the food offered is purely vegetarian without onions and garlic.
At my native, naivedya for this festival usually consists of
– muga dali usli (a dry dish prepared with moong dal) – right in the below picture,
– chane usli (a dry dish with black chickpeas) – left in the below picture,
– ambli pachdi (spiced shredded mango dish),
– panak (a sweetish, spicy drink)
Usually panak is a must during this festival. Other dishes vary from temple to temple. I will post recipes of other 3 dishes soon. After the pooja, god's idol is taken in palanquin in a procession. The palanquin is placed on many of the Ashwatha katte(a round structure created around the Ashwatha tree) in many places across the village and different people offer pooja to the idol. In many small villages, towns and cities all across India these Ashwatha katte can be found. Devotees, believers normally are found making pradakshina (rounds) in the morning, which is also beneficial to health because of the fresh air around trees.
Ingredients:
2-3 tbl spn jaggery
2 cups water
1/4 tea spn cardamom powder
1/2 tea spn pepper powder
1/2 tea spn grated ginger(optional)
1 tea spn lemon juice(optional)
Ginger and lemon is not added in panak at my place. But in many temples, it is a must.
Method:
Mix all of the above till jaggery is dissolved in water. Make a paste of ginger and add it. Mix well.
Serves : 2
Preparation time : 5mins