Few days back Pai asked me about the famous 'Kashaya pitto'. Since I was not having the recipe, it took me some time to find it out. As always, I got it from Aayi.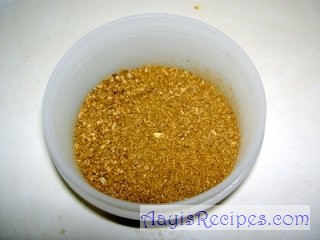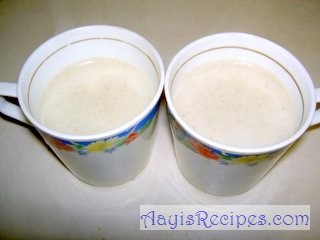 'Kashaya' is a beverage which replaces 'tea' or 'coffee' in many of North kanara homes. People prefer it because this is supposed to have cooling effect on body (do not drink it if you have cold).
Kashaya powder(called 'kashaya pitto') is readily available in the shops, so my aayi usually does not prepare it at home. But I found the recipe very very simple, and I wish to make it on my own in future. This can be preserved for months (like sambar powder) in air tight containers. Those who want to cut down on their tea/coffee intake, but wish to drink something healthy, do try this drink.
Kashaya powder(pitto)
Ingredients:
Coriander seeds 1 cup
Cumin seeds(jeera) 1/2 cup
Fennel seeds(Badishep) 1/2 cup
Wheat (optional)
Method:
Roast the ingredients seperately(without adding oil). Grind them to a smooth powder. Preserve in air tight container.
Kashay (the beverage)

Ingredients:
Milk 1/2 cup
Water 1/2 cup
Sugar 1 tea spn
Kashaya powder(pitto) 1 tea spn
Method:
Boil milk and water in a bowl. Add sugar and kashaya powder when it boils. Remove from flame, and close the lid for 5min. Strain it using tea strainer. Serve hot.
I like more milk in this kashaya. So I used 1:1 ratio of milk and water. This ratio can be varied as per individual taste. Basically you have to follow the same procedure as tea.