When you think about Karnataka food, different things come to your mind – like Gokak Kardantu, Belgaum Kunda, Davanagere benne dose etc. These places have become synonymous with these popular dishes. I have been on the lookout for Davangere benne dose for a very long time. I had previously posted a version of benne dose here. Last week when I was going through my recipe collection – if some of you remember, I had mentioned earlier that my dad had given me a huge collection of recipes that he collected over the years, just for me. Love you dad – I found an article about Davanagere food. And there was a recipe for benne dose. I cannot believe I had missed reading this recipe!. Better late than never.
So I immediately decided to make it and declared to V that he will have these dosas for next day's breakfast. When I started, I realized that there were some confusions about the recipe. So wherever I got confused, I just went with my instinct. Ohh these dosas –along with its two sides, which make a huge difference – were just out of the world. I want to make this for my parents when they visit next time.
The article says we have to use 'Jaya thick rice'. Since that is not available here, I used idli rice. It mentions, we have to wash some rice, dry it and make rice flour, but the quantity is not mentioned. I just used rice flour. It also says we can make the dosas 1hr after making the batter, I was not so sure about that. So I kept it for fermentation overnight. The quantity was enough for 3 days for two of us. After making the batter, I took 1/3rd of it out and kept for fermentation. Remaining, I refrigerated. About 1 cup of batter was left out that day. Next day I took out another 1/3rd and mixed the 1 cup left out fermented batter. Let it rest for about 30mins and made dosas. They came out really well. Repeated the same for last batch.
The article says, these dosas are served with bhaji and chutney. While the bhaji is quite bland, the chutney is made very spicy. It is an experience in itself to eat the dosas with these two sides. It also mentions that for the chutney, a special chutney masala that is readily available in shops is used, unfortunately the masala recipe is not given but the article says that the masala is made of moggu, cinnamon and cardamom. Since I did not have moggu, I used cloves. The chutney was very very flavorful.
Give it a try atleast once. I am sure you will love it, like we did.
Ingredients for dosa:
1 cup urad dal
2 and 1/2 cups idli rice/dosa rice
1/2 cup rice flour
1 cup poha(avalakki)
1/2 tea spn methi(fenugreek) seeds
Butter
Salt
Method:
Soak urad dal, methi seeds and rice for 1 hr. Wash poha in water.
Grind all together to a soft batter. Now add rice flour, salt and grind again (or mix well with a spoon).
Keep it aside for 4-5hrs.
Heat tava and spread a thin dosa. Add some butter pieces. Flip the dosa and fry for a min. Flip again and fold. Serve with a dollop of butter on top.
Ingredients for bhaji:
2 potatoes
1/2 cup onion
2 green chillies
1 tea spn mustard seeds
3-4 curry leaves
A pinch turmeric
Oil
Salt
Method:
Cook the potatoes in pressure cooker, peel and mash them.
Heat oil and add mustard seeds. When they start popping, add curry leaves, green chillies, onion. Fry for few minutes. Add turmeric, salt and potatoes. Mix well.
Ingredients for chutney:
1 cup fresh/frozen coconut
6 green chillies (chillies I used were not very spicy)
4 cloves
1 cardamom
2″ cinnamon
1 tbl spn choppes ginger
1/4 tea spn tamarind
Salt
Method:
Grind all with minimum amount of water needed.
Serves : 6-7
Preparation time : 45mins
Pictorial: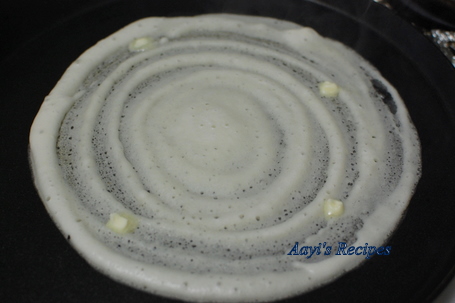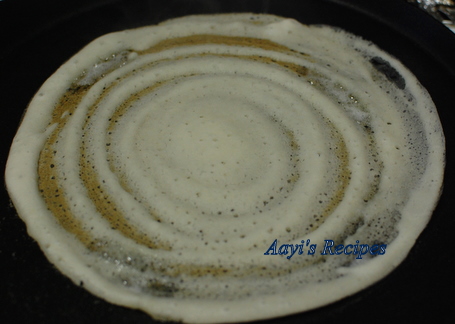 Bhaji :
Chutney :