I always look for more ways to include both protein and vegetables into our meals. When I make chicken curry, I make a paste of cooked vegetables and add it to chapati dough or add vegetables to rice that is served with curry. But sometimes I make a curry with both chicken and vegetables. This vegetable-chicken curry is one such dish that my family really enjoyed.
The next day, I used the same curry to make puffs. My 7 year old loves puffs. This was a perfect way to get some interesting dish in his lunchbox. He even asked if there were leftovers after school.
Pictorial:
Marinate chicken.


Fry the spices.


Fry tomatoes in spices and grind. Then fry onions.


Add chicken and fry. Then add vegetables followed by spice paste. Cook till done.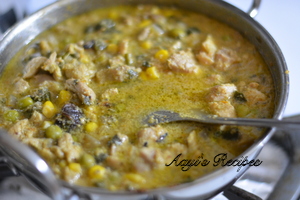 Vegetable-Chicken Curry and Puffs
A tasty and healthy vegetable and chicken curry with coriander leaves and spices paste. The puffs are made by baking the dry curry in pastry sheets.
Ingredients
1

lb

about 1/2 kg boneless chicken

1/2

cup

each green peas

carrot, corn

1/4

cup

spinach

1/4

cup

tightly packed

along with thick stems coriander leaves

3

green chillies

1

tea spn fresh ginger-garlic paste

1

tbl spn lemon juice

A pinch turmeric

1/2

cup

tomatoes

1

tbl spn fresh/frozen or desiccated coconut

2

black cardamom

moti elaichi

1/2

cup

onion

Oil

Salt

Spices for the paste:

3

cloves

2

" cinnamon

1

tea spn coriander seeds

1

tea spn cumin seeds

1

tea spn poppy seeds

khas khas

1

tea spn ani seeds

saunf/badishep

For Puffs

2

puff pastry sheets
Instructions
Make a paste of coriander leaves, green chillies, ginger-garlic and lemon juice.

Marinate chicken in that paste with salt and turmeric.

In a little oil, fry cloves, cinnamon, coriander seeds, cumin seeds, poppy seeds, aniseeds.

Then fry tomatoes and coconut.

Make a paste and keep aside.

Heat oil and fry black cardamom, onions.

Then add chicken, fry for few minutes.

Add peas, carrot, corn, spinach.

Then add the paste, salt, water and cook till done.

For Puffs:

Preheat oven at 400F for 10mins.

Heat the curry till all the water is absorbed.

Cut pastry sheets into required size pieces.

Keep a small portion of the dry curry on it.

Seal the edges with water and press them down.

Bake for about 15mins (or according to packet instructions).

Serve hot with ketchup.