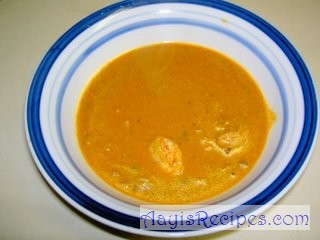 Recently I tried few of the Goan recipes like Prawn Balchuan, Eggless banana cake and absolutely loved them. So when Jay requested a recipe of Chicken Xacuti, I could imagine that it would taste heavenly. Since I have stopped preparing chicken at home, I replaced it with prawns. As expected, the dish was simply superb. So here is the Xacuti recipe as followed in Goa.
Ingredients:
Chicken 8-10 small pieces or Prawns ¾ cup
Onion(large) 1
Coconut ¾ cup
Nutmeg powder ½ tea spn
Tamarind ½ tea spn
Coriander seeds ¾ tea spn
Cumin seeds ½ tea spn
Poppy seeds (khus khus) ½ tea spn
Fennel seeds (Soamp or saunf) ½ tea spn
Dried chillies 3-4
Star anise 3-4
Cloves 2-3
Cinnamon 1" piece
Oil 1 tea spn
Salt
I did not use star anise when I prepared this dish.
Method:
Dry roast (fry without oil) the coconut till it turns slightly brownish. Keep aside.
Dry roast coriander seeds, cumin seeds, poppy seeds, fennel seeds, cloves, cinnamon, start anise and dried chillies (Do not burn them) till nice aroma comes out (roast on a low flame). Grind them with coconut to a smooth paste (do not add too much water. Just add water that is sufficient to make a smooth paste).
Heat oil and fry finely chopped onion. When they turn slightly brownish, add the masala and fry till oil separates. Add the chicken/prawn pieces, salt and fry for around 3-4mins. Add 2 cups of water and cook till chicken/prawn is cooked. Now add nutmeg powder, tamarind and cook for 3-4 minutes.
Serve hot with Goan bun or rice.
Serves : 3
Preparation time : 30min(prawn) or 40min (chicken)