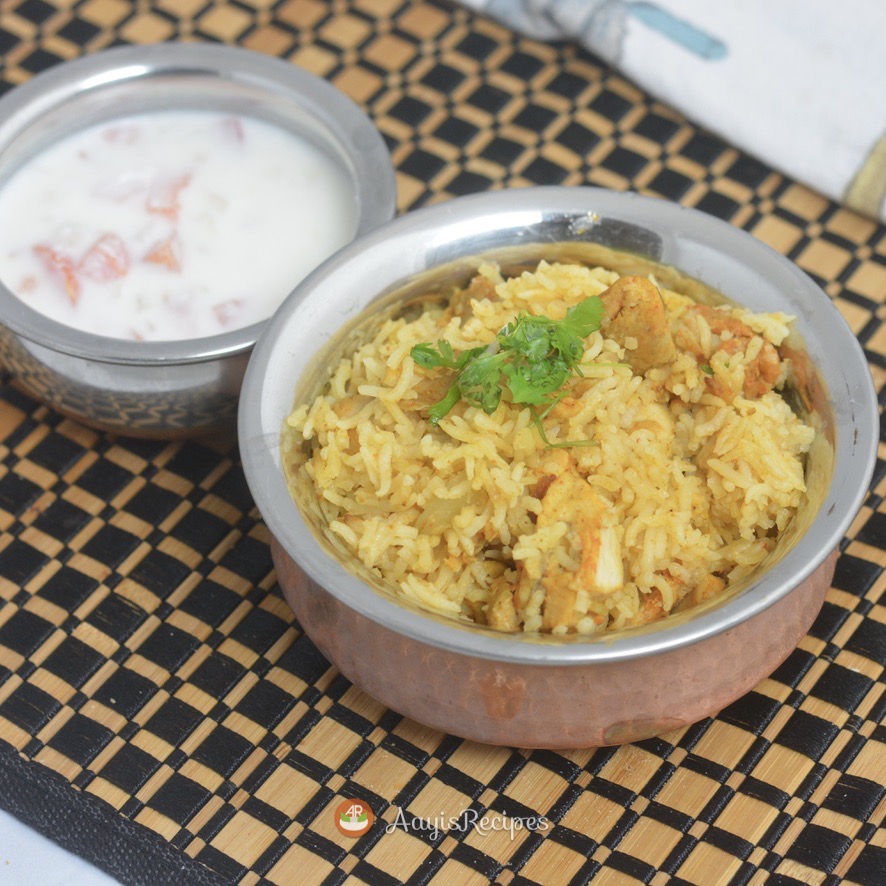 During Christmas holidays we visited our cousins in Boston. My cousin's place, we had delicious and comfort vegetarian food, something I was craving a lot. At V's cousin's place, we had all non vegetarian meals. I was in a foodie's heaven, amazing food at both places and we had a very relaxing time.
Make a big batch of it, as it is just out of this world and it disappears in no time.
This dish was prepared for us by V's cousin's wife Poornima Vaini. She made all-chicken dinner and lunch for us. Since I am a big Biryani lover, I really enjoyed this Biryani with coconut milk in it. She shared her recipe with me. I might have missed one or more steps, but this came out really well when I came back and made this. It is extremely easy one to make (I don't know why it is called Biryani, because rice is not cooked separately here. Everything is mixed and cooked at once, but I will still stick to the name).
Ingredients:
1/2 kg (17oz approx) chicken
1/2 cup potato(optional)
2 cups basmati rice
2 cups(1 can) light coconut milk
3/4 cup onion slices
1/2 cup tomato
4-5 strands coriander leaves
1 tea spn biryani powder
1-2 tea spns chilli powder
A pinch turmeric
A tbl spn yogurt/curds
1 tea spn ginger paste1 tea spn garlic paste
Ghee/Oil
Salt
Whole Spices :
4-5 cloves
2″ cinnamon
4 green cardamom
2 bay leaves
Method:
Add ginger paste, garlic paste, turmeric, chilli powder, yogurt, biryani masala and salt to chicken pieces. Mix well and keep aside for about 30mins.
Heat ghee/oil (I add both ghee and oil) and add all whole spices. Now add onion, salt and fry till they are brownish.
Add tomatoes and fry for few mins.
Add chicken along with all marinade and fry for 3-4 minutes. Add potatoes(optional).
Add rice and fry for few more minutes.
Now pour in the coconut milk and about 1 and 1/2 cups water, salt, mix well. Cover the lid and cook on a medium heat till done. Garnish with coriander leaves. Switch off heat and leave it as it is for about 15-20mins. Serve hot.
Serve with cold raita.
Serves : 4-5
Preparation time : 45mins