I am a huge biryani fan. So if anyone even mentions biryani in front of me, I start getting cravings. Last week, we were invited to one of our friend's home for dinner. She had made a very nice biryani. The next day again I wanted to eat it. So I was pretty much thinking about it whole week. Then my brother mentioned he had been to a biryani festival. Ohh, I hate him for saying that to me. It was the last push I needed to make it at home.
So today morning I spent some time searching for a good biryani recipe. My brother said his favorite types are Hyderabadi and Awadhi types. Since I was very interested to try a new recipe, I started searching for Awadhi. The recipes I found online were either quite elaborate or required some ingredients which I did not have on hand. Finally I decided to check out my favorite Indian chef Sanjeev Kapoor's site. His Lucknowi biryani caught my attention. I had all ingredients and it looked quite straight forward. Cool. I have no idea if it is traditional Lucknowi biryani or just an interpretation by chef.
I made few changes to the recipe. I did not see any chillies in the recipe, so I included some. I also layered it like any other biryani. It came out very delicious. Since we are used to very spiced biryanis, I felt I should serve a gravy with it. The gravy I prepared is kind of like the one served along with biryanis in India. I have no idea how the restaurant version is made. But this version came out amazingly well.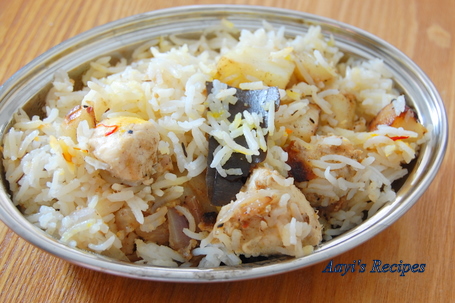 Ingredients:
1 and 1/2 cups basmati rice
1/2 tea spn shah jeera (caraway seeds)
2 green cardamoms
2 bay leaves
2 cloves
1 lb(0.45kg) chicken
1/4 cup onion slices
For spice paste (grind to paste without water)
1/2 cup onion
4-5 green chillies
1 tea spn cumin seeds
1 green cardamom
A small piece of nutmeg
1 tea spn garlic
1 tea spn ginger
2 cloves
For spice bundle(Tie in a muslin cloth or clean thin towel)
1/4 cup chopped onion
1 tea spn garlic
1 tea spn ginger
1/2 tea spn black pepper
2 black cardamom
1/2 tea spn fennel seeds(badishepi)
2″ cinnamon
1 mace (javithri)
For saffron milk (warm the milk and dissolve saffron):
2 tbl spn milk
1/4 tea spn saffron
For Potatoes:
1 cup of potatoes
A pinch of salt
Other ingredients:
3 and 1/2 cups water
Oil
Salt
Method:
Heat water with salt and the spice bundle till it starts boiling. Add chicken pieces. Cook till 3/4th done. (I used tender chicken breasts, so it took hardly a minute. Based on the kind of chicken used, the time varies). Take out the chicken pieces in a bowl. Reserve the water. Discard the bundle.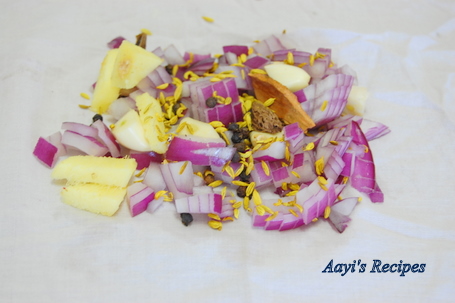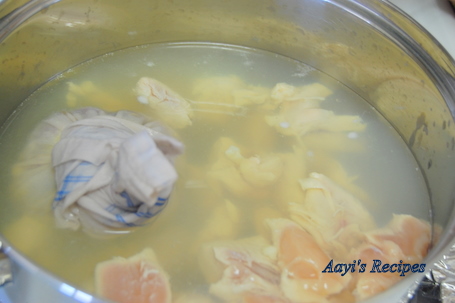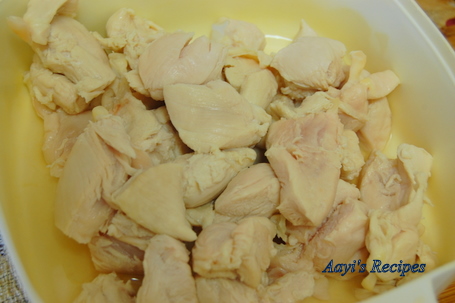 Wash the rice and keep aside. In another pan, heat a little oil and add green cardamom, cloves, bay leaves, shah jeera. Add rice and fry for few minutes. Measure the reserves water. Add about 2 and 3/4 cups of this water to rice and cook till the all water is absorbed.
In another pan, heat oil and fry the potatoes till they are golden brown. Take out on a clean plate.
Heat oil in same pan and add sliced onions. Fry till they are slightly brownish. Add the chicken and paste, add little salt if required. Fry for few minutes.
In a thick bottomed pan, spread some oil. Add half the amount of cooked rice. Now spread the chicken and potatoes. Cover with remaining rice. Spread the saffron milk on top. Cover the lid.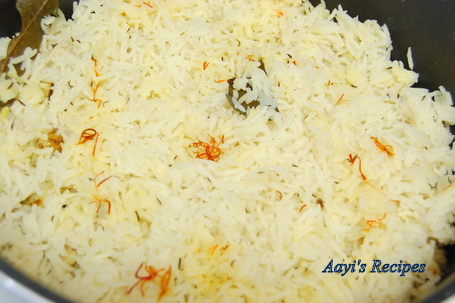 Cook on a very low flame for about 15mins (by this time all parts of biryani are cooked. This step allows all the rice to absorb spices).
Serve hot as it is or with gravy.
Serves : 4-5
Preparation time : 1hr
PS:
Be very careful while cooking chicken. Since it is cooked multiple times, it easily gets rubbery if enough attention is not paid.
While cooking rice for any biryani, it is cooked in excess water and then water is drained. I did not want to do this for this biryani as the water used here is full of flavor. I did not want to waste any of it. So I cooked rice in just enough water to slightly under cook rice.
The dish looks quite complex, but if you follow the exact steps, it is not that hard to put together.
For Gravy :
1/2 cup onion
1 tea spn ginger
1 tea spn garlic
4 red chillies
1/2 tea spn fennel seeds(badishepi)
4 peppers
1/2 tea spn poppy seeds (khus khus)
1/2 tea spn coriander seeds
1/4 cup tomato
1 tbl spn fresh/frozen coconut
A pinch turmeric
Oil
Salt
Method:
Heat oil and add all spices. Then add onion, ginger, garlic and fry till onions are brownish.
Now add tomato, turmeric, coconut. Fry for 2-3mins.
Grind to a smooth paste adding enough water to bring to gravy consistency.
Heat the gravy till it starts boiling.
Serve with biryani.
Serves : 4
Preparation time : 20mins