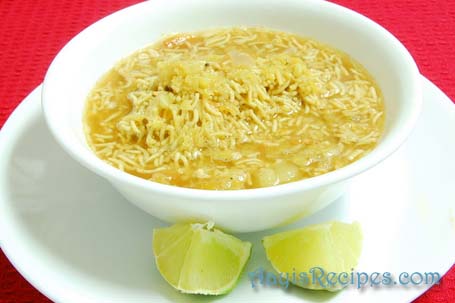 This is a snack or I can say chaat item. Until today, I haven't seen it anywhere else. My maternal grandmother used to prepare this. It was everybody's favourite at home. Then my aayi and pachi(mom's sister) started making it. It is usually prepared for evening snack, but pachi serves this with bread for breakfast.
When I read about JFI for dal event at Sailu's food, I thought this would be the best contribution from me. It is made of moong dal or toor dal (authentic recipe calls for moong dal). The bhaji is like 'sambar', with a very different taste. While serving, add sev to it (around 1 and 1/2 cups bhaji to 1 cup sev). The sev should be completely immersed in bhaji. Squeeze some lemon juice and enjoy.
Ingredients:
3/4 cup moong dal (or toor dal)
1/2 cup potato(cut into small pieces)
1/2 cup onion
1 tea spn chopped garlic
1/4 tea spn methi(fenugreek) seeds
4-5 cloves
1″ piece cinammon
1/2 tea spn chili powder
A pinch asafoetida
A pinch turmeric
Lemon
Salt
3 cups sev
It tastes great when the bhaji is spicy. So increase the spice if your taste buds can tolerate it :).
Method:
Cook dal with potato, onions and turmeric.
Roast (without oil) methi seeds, asafoetida, cloves and cinnamon. Take out and powder them. When the vessel (used for frying) is still hot, add chilli powder (do not fry the chili powder, just use the hot vessel to warm it a bit).
Add the powders, around 1 and 1/2 cups water, salt and crushed garlic to cooked dal mixture. Cook for 7-8minutes.
While eating, add sev(around 1 and 1/2 cups of bhaji to 1 cup sev), squeeze some lemon juice. (do not keep for long after mixing sev. Sev should be still crunchy while eating, to get better taste).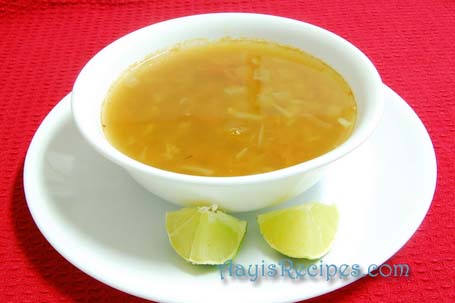 Serves : 3
Preparation time : 15mins