I am a huge fan of chaats. I never tried making them myself before coming to US, since I would get them easily in Bangalore. But when I came here, I started missing them. Though I don't make them often these days, thanks to an amazing chaat center nearby my home here, I still like to learn how to make new kinds. We could get almost all kind of chaats in Bangalore but I never saw ragda patties anywhere. I had tasted it long back in Belgaum and for some reason I could not recollect the recipe. Still I know the taste of it.
One cold evening my husband comes back home and asks me to make ragda patties. My answer out of sheer laziness, "I don't know how to make it". He goes, "I know you can search it and make it for me". I just try to ignore. Next day again, "Please make ragda patties for me, you used to cook everything I asked for. Stop watching Food Network. If you cook ragda patties for me, you can post it on your blog, people would love it". Now, he knows how to convince me. He knows I would cook anything when it comes to posting the recipe here. So my search for this recipe began.
I got many recipes online. But was unable to decide which one to try. Then I realised, I should have asked my dear friend Aruna. I was 100% sure that she would know the recipe, since she is from Mumbai and she loves cooking different things. As usual, she did not turn me down. She sent me this recipe. It turned out just superb. This may not be the only version of ragda patties available, but I can assure you will love it. Though it has many ingredients, it can be prepared in 20-30mins. One or two bowls of this and you can easily skip dinner.
Pattis:
2 large cooked potatoes (around 1 cup after peeling and mashing)
1-2 slices of white bread
1/4 cup finely chopped onion
A pinch turmeric
1/4 tea spn coriander powder
1/4 tea spn cumin powder
Salt
I also added 1/2 tea spn chili powder to spice it up. But in original recipe, chili powder is not there.
Method:
Soak white bread in water and squeeze off excess water. Mix it with all other ingredients. Make small balls of it, flatten on the palm of your hand and shallow fry them from both sides.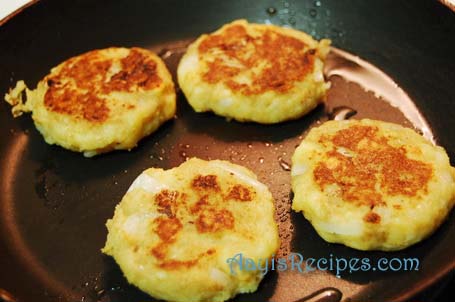 Ragda:
1 cup dry yellow peas(vatane) soaked overnight
A pinch turmeric
Salt
Method:
Pressure cook the peas with turmeric and salt till they are soft and mushy. I had not soaked them overnight, so cooked them for a longer time till they became soft.
Sweet chutney:
2 tbl spns jaggery
1 tea spn tamarind extract or 1 small lemon sized ball of normal tamarind
6-7 dates(khazoor) soaked in warm water
Method:
Take jaggery and 1/4 cup water in a pan and cook till jaggery is completely dissolved. Grind together dates and tamarind. Add this mixture to boiling jaggery and allow to cook for 5mins till the chutney becomes thick. I added a little salt to this chutney. Cool and strain the chutney. If it remains, it can be refrigerated for few days.
Green chutney:
1/2 cup chopped mint(pudina) leaves
1 cup chopped coriander leaves
6-8 green chilies
1 tbl spn lemon juice
Salt
Method:
Grind all together with minimum amount of water to a smooth paste.
Dry Masalas:
1/2 tea spn chaat masala
1/2 tea spn rock salt
1/2 tea spn cumin powder
Method:
Mix all and keep aside.
Garnishing:
8-10 puris used for pani puri
1/2 cup finely chopped onion
4-5 strands of chopped coriander leaves
1-2 tbl spn lemon juice
1-2 tbl spn grated raw mango(optional)
1-2 tbl spn sprouted moong beans (optional)

Serving instructions:
In a serving bowl, take hot ragda, mix all dry masalas. Add sweet and spicy chutneys depending on taste. Mix well. Now add a patties, such that it soaks ragda.
Add chopped onions, lemon juice, chopped coriander leaves, crushed puris.
I also added some sev as we like it very much. Serve immediately.
Serves : 2-3
Preparation time : 30mins
Updated: Here is how I managed to cook this in 30mins
– Collected all the items necessary from pantry and refrigerator and kept them readily accessible to my cutting board.
– Kept peas and potatoes in pressure cooker on high.
– On another burner, I kept water and jaggery for heating.
– When the peas and potatoes were cooking, I utilised the time to cut onions, lemon, coriander leaves etc.
– Grind the dates(I did not soak them) and tamarind, add it to the boiling jaggery.
– Used the same mixie without washing, to make green chutney(I did not cut any leaves, because they will anyway get ground).
– Kept a tava for heating to fry patties.
– Kept the dry masalas, puris, sev on a serving plate
– By the time I finished all these, my peas and potatoes were ready.
– Fry the patis on piping hot tava.
– Assemble everything
This recipe is as simple as this, even though it looks very long at first glance. You can count how long it takes. For me it took 30mins :).