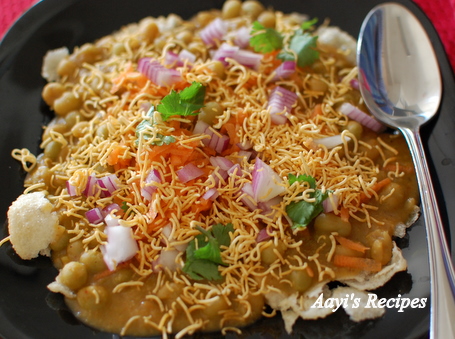 I am a big fan of masala puri. I posted a recipe for a version of masala puri some 3 years ago. Many of the readers said they want the one available in Bangalore. Of course every street vendor who serves masala puri has their own recipe for it. Every one has a unique taste. I am one of those people, who enjoy all the different varieties of chaats. I am sure most of you do too.
A few days ago, one of my readers, Suman, left a comment with this recipe. She said she had got it from one of the chaat vendor in Vijaynagar in Bangalore. When I read it first time, I was sure it would taste great. It took all my will power, not to jump and try it immediately. Her comment could not have come at a better time. I was missing India and all my favorite food there. So finally gave it a try yesterday. Thanks a lot Suman, I greatly appreciate it.
While the first masala puri recipe is more like a chaat with its different chutneys, this one is more like the one we get in Bangalore. We love both. Choose the one you like.
I did not have all the spices mentioned by Suman – like Marathi Moggu and Javatri(mace). So I left them out(I will still mention an approx amount of these below as I don't want to miss them next time when I have them). I also reduced the amount of spices to suit our taste. I used desiccated coconut instead of fresh coconut as that is what I had on hand. Check out Suman's recipe here. Below is how I made it.
Pictorial:
Dry roast the spices.


Grind the spices with coconut and red chillies.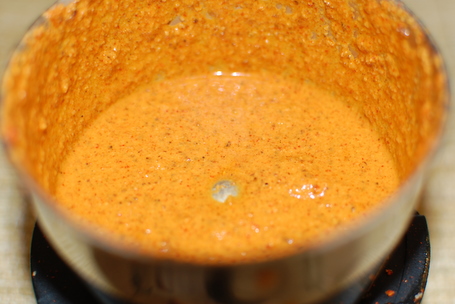 Add cooked dal and grind to a smooth paste.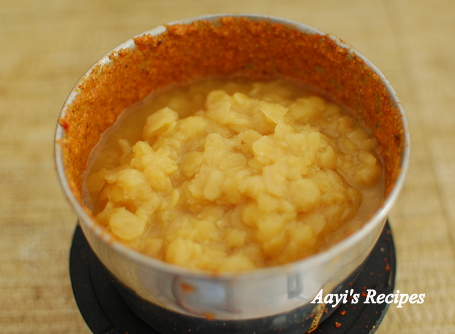 Cook the paste.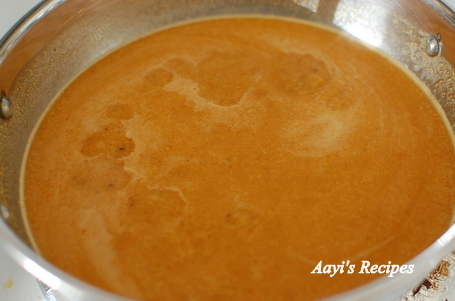 Add the cooked peas.

Cook for few minutes.

Chop onions, coriander leaves. Grate carrots.

Take few puris on a plate.

Crush puris.

Spread a big spoonful of peas curry on top.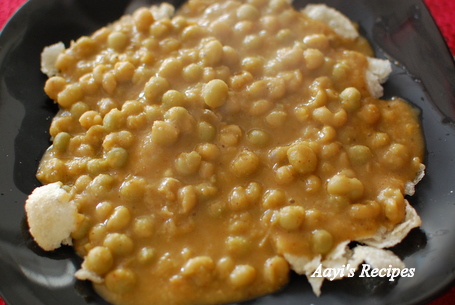 Garnish with onions, carrots and coriander leaves.

Spread some sev on top and serve immediately.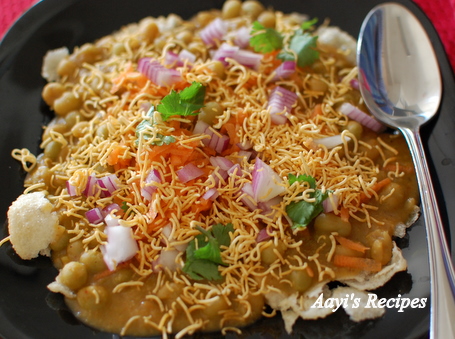 Masala Puri - 2
A very popular chaat from the streets of Bangalore. Masala Puri is prepared with dried peas and freshly ground spices served with crispy puri and sev
Ingredients
3/4

cup

dry green peas

soaked overnight and pressure cooked (do not use fresh peas)

1/2

cup

toor dal cooked till soft with a pinch of turmeric

Grated carrot

Finely chopped onion

Puris

I used store bought

Sev

Finely chopped coriander leaves

1

tbl spn coconut

1

tea spn sugar

1

and 1/2 tea spn red chilli powder

Salt

Dry Spices :

4

cloves

1

" cinnamon

1

tea spn coriander seeds

1

tea spn cumin seeds

1/4

tea spn peppercorns

A small piece of nutmeg

jayikayi

1

mace

japatre/javatri

2-3

marathi moggu
Instructions
Dry roast all the spices (I did this to help in grinding, was not in original recipe).

Grind the spices with coconut, red chilli powder to a smooth paste. Add the toor dal and grind (I did not want to sieve it to get a smooth paste, so I just ground it).

Take the ground paste in a vessel and add little water to thin it slightly(do not make it too watery).

Add salt, sugar and cook for a while. Now add the cooked peas and cook till it comes to required consistency. The gravy should not be too thick or too thin. It should be semi liquid.

In a serving plate, take few puris and crush them. Spread a about 1-2 ladle full of gravy. Spread some carrot, onion, coriander leaves and sev. Serve immediately.

The gravy should be hot to enjoy the actual taste of it. Add the toppings according to your liking.