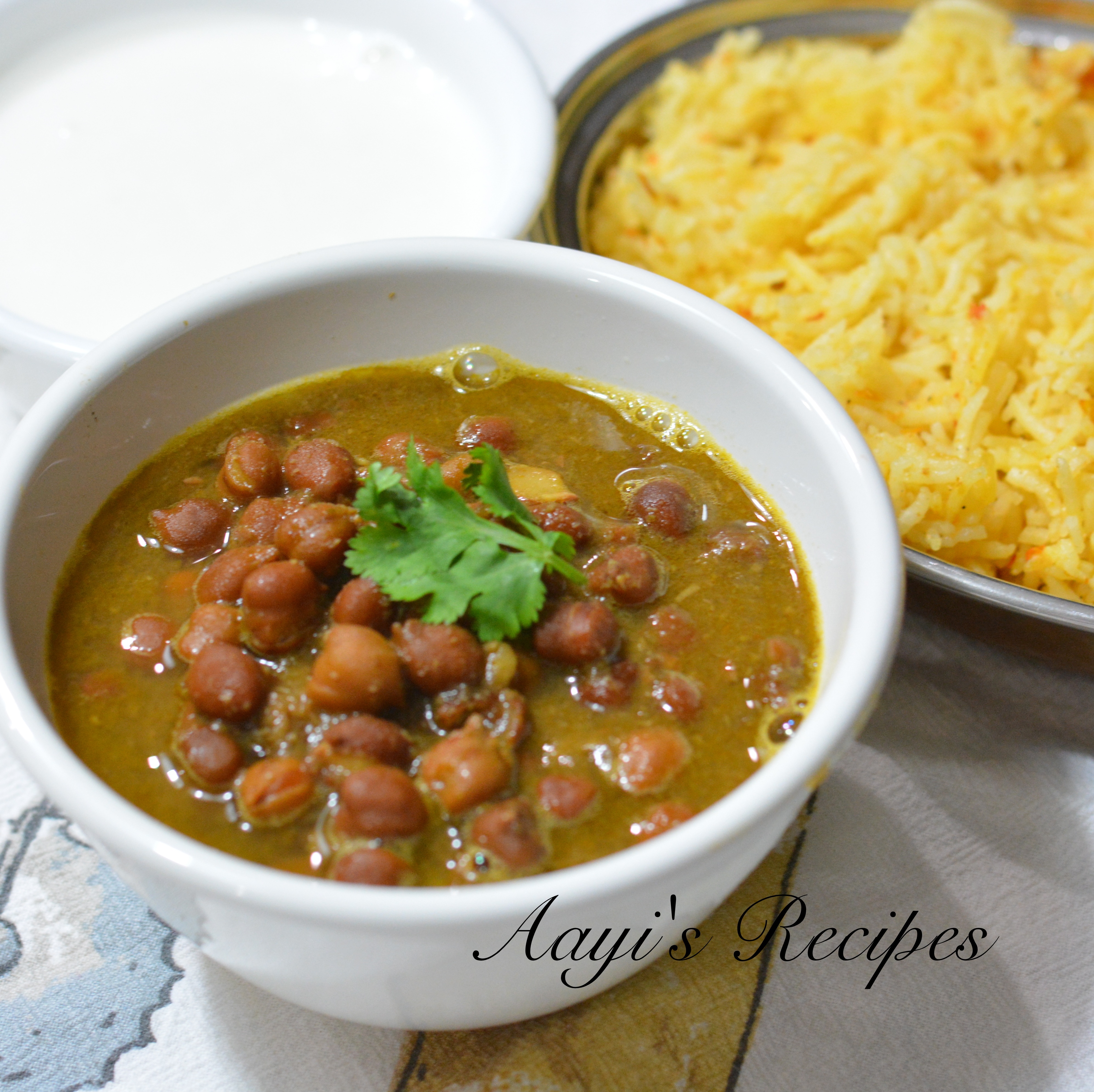 Few months back when my parents were here, my friend had invited us for dinner. She is one of the few Konkani friends I have here in KS and we always have a great time when we meet. Our kids love to play with each other while we talk about everything under the sun. She made a delicious spread for us and there was one dish – this black chana hara masala, (which is what I have named it by the way) that my aayi particularly liked a lot. She even got the recipe from my friend.
Then in January, my entire family was down with flu and my friend brought me a few dishes as care package. This dish was one of the 4 dishes she brought. That was the week we all had lost our sense of taste because of fever and we did not like anything we ate. But then my husband, who does not care much for any beans/chickpeas, really enjoyed this. I asked my friend for the recipe again and I have made it few times since then.
Also try chane ghashi, chane-kele upkari, chana chaat.
Pictorial:
Cook soaked chana with a pinch of turmeric. Then make the spice paste.

Black Chickpeas in Green Masasla(Black Chana Hara Masala)
Ingredients
1

cup

black chickpeas

A pinch turmeric

1/2

cup

onion

1

tea spn garam masala

optional

Oil

Salt

For the paste:

1/2

cup

coriander leaves

Along with thick stems

3

green chillies

1

tea spn ginger pieces

3-4

cloves

1/2

tea spn cumin seeds

1

tbl spn dried or desiccated coconut

1/2

cup

tomato

optional
Instructions
Soak chickpeas in water for 6-8hrs.

Pressure cook them with a pinch of turmeric (about 4 whistles).

Make a paste of coriander leaves, ginger, green chillies, cloves, cumin seeds, coconut, tomato(optional).

Heat a little oil in the pressure cooked pan and fry onions.

When they are translucent, add chana, garam masala and the paste, salt.

Mix everything well and pressure cook again for 2 whistles.

Serve with rice or chapatis.
Notes
If you want to keep the color of gravy green, avoid tomatoes and use lemon juice instead.
You could mix the paste with chickpeas and pressure cook once instead of pressure cooking twice. I thought the paste would loose some of the aroma by doing that.
Pressure cooking second time is not really necessary. I feel it helps in chickpeas soaking the masala well, so I did it.