Kohlrabi is called as 'Navalkol' in Konkani and 'Navil Kosu' or 'kosu gadde' in Kannada. 'Sukke' is usually a side dish prepared with some kind of vegetable or sea food and coconut masala. This dish has a sweetish and spicy taste because of the jaggery and red chilies in it. This is one of my all time favourite dishes.
When I was a kid, I had grown these in my neighbour's fields. Our neighbour(fondly called as mami) grows lot of different vegetables in their field. As I had the "madness" of growing vegetables for a short period of time, she allowed me to grow all kinds of vegetables along with her in her garden. Ofcourse, she used to nurse my plants. I only watered those plants and claimed they are mine whenever we went to the field :).
Pictorial:
Fry the coriander seeds, urad dal in oil and grind with chillies, coconut.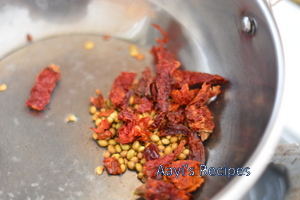 Fry onions. Add cooked kohlrabi pieces along with jaggery and salt.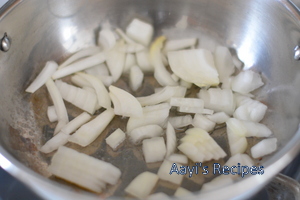 Add ground paste and cook till it becomes kind of dry.

Kohlrabi sidedish(Navalkola sukke)
A sweetish spicy kohlrabi cooked in a coconut masala.
Ingredients
3

cups

Kohlrabi

Navalkolu/navilkosu(cut into small pieces)

1/2

cup

onion

cut into small pieces

3/4

cup

coconut

fresh or frozen

4-5

red chilies

1/2

tea spn coriander seeds

1/2

tea spn urad dal

1/2

tea spn tamarind

1/2

tea spn jaggery

Oil

Salt
Instructions
Cut Kohlrabi in small pieces. If the skin is thick and hard, peel it, otherwise use with skin.

Cook Kohlrabi in cooker.

Heat 1/2 tea spn of oil and fry coriander seeds and urad dal.

Grind them with coconut, red chillies and tamarind by adding just sufficient water(do not make the masala too watery).

Heat remaining oil and fry onion.

Add cooked kohlrabi and ground masala, jaggery.

Add salt and cook till masala is done and the dish becomes almost dry.

Serve as a side dish with rice and dal/gravy or with chapati.
Updated on 9/10/2017 with details and pictures.