Every Indian cusine has its own recipe for this dish. I have been reading about this ('Baingan ka bhartha') in many blogs now. So I thought of posting the Konkani recipe of this dish.
At my native, we never had electric boiler to heat water for bath. Instead we have a big iron vessel where water is heated (the vessel is called 'bhaan'). Dry wood is used to heat water (the arrangement where the fire is put is called as 'bhaana ranni'). So at the day time, mom used to make smoked eggplant by carefully frying the eggplants in this 'bhaana ranni'. But as time passed, this method became obsolete. Though people still use this arrangement to heat water, nobody actually uses it for frying eggplant.
I have seen some people who directly keep the eggplant on stove to smoke it. But the problem with this method is, when egg plant is fried, the water starts falling on the burner. So what is the easy way? I felt Pachi's way as the easiest one. Apply some oil to all sides of eggplant. Keep it on a hot tava and close the eggplant with a vessel and heat the tava. After every five minutes or so, just check if the egg plant is cooked, if yes, turn it. It takes around 10mins to smoke a big eggplant.
This bharth is usually served along with urad-papad (which are very very famous in North Kanara and called as 'udida happal' in Konkani. These papads have a strong asafoetida smell) as a side dish with rice.
Ingredients:
Eggplant 1 big
Coconut 1/2 cup
Green chillies or red chillies 3-4
Tamarind 1/2 tea spn
Asafoetida a pinch
Salt
If the eggplants available in India are used, increase the number. After smoking, atleast 1 to 1 and 1/2 cups of pulp should remain.
Method:
Smoke the eggplant as explained above.
Remove the skin.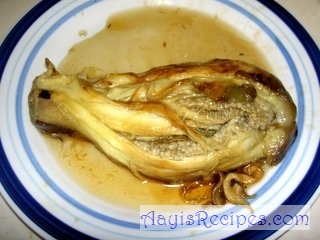 Grind coconut, chillies, tamarind, salt and asafoetida adding very little or no water (since eggplant has a lot of water in it, do not use more water while grinding).
Mash the eggplant with hand and mix it with chutney. (Aayi adds the eggplant directly to mixer/blender before removing the chutney and grind just for one round. Eggpant should NOT be ground completely).
If red chilli is used, raw onion pieces are added to this bharth.
Serve with urad papad.
Serves : 4
Preparation time : 20mins