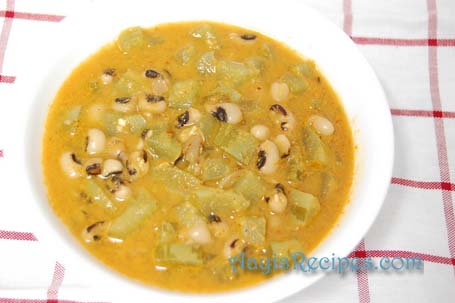 Shilpa had posted this recipe on Sailu's blog along with an introduction to Konkani cuisine. This must be one of her favorite dishes, so she asked me to post this again here, so that we can have it in this blog's collection as well.
I was not surprised when she had picked this dish while writing about Konkani cuisine. She has always loved this. My aayi (Shilpa's grandma) used to search for snake gourd (padwale/paddale) and make this for her. We miss her every time we cook this dish. Though we make few different dishes with snake gourd, this is the one that always gets cooked when she is at home.
Randayi is a side dish prepared by Konkanis, which has a coconut base. Randayis usually have watery coconut base but are served as side dish. Like many other randayis, this too is a mixture of vegetable and dried beans. We usually don't mix teppal with seasoning, since this randayi has teppal, we don't add extra seasoning(of mustard, curry leaves) to it.
Ingredients:
1 cup snake gourd pieces
1 cup black eyed peas(alsande)
1 cup fresh/frozen coconut
5 red chillies
4-5 teppal
2 kokum pieces
1 tea spn jaggery(optional)
Salt
Method:
Cook snake gourd and black eyed peas. The peas should not get mushy.
Grind coconut along with red chillies to a smooth paste.
Add the paste to cooked snake gourd and black eyed pieces. Add kokum, salt, jaggery. Slightly crush teppal in 1 tbl spn water (do not make a paste. It is crushed just to bring out the aroma). Add it along (along with the water) to the dish. Cook for 5-6 mins. The dish should not become too dry or too watery.
Preparation time : 25mins
Serves : 4-5