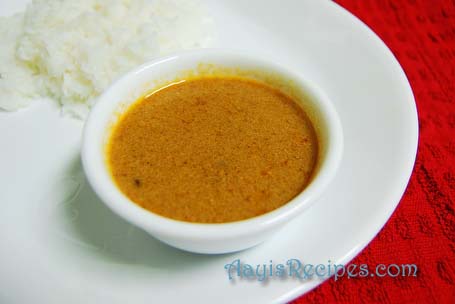 This is one of my favorite Konkani dishes. My Aayi is an expert in preparing this. Since we add cumin seeds(jeera) and pepper(miryakan) to this, it is good for health. I used to eat a lot more when this dish was prepared. I love to pair this with some lemon pickle. A lot of garlic is added to this gravy to give that amazing aroma.
Ingredients:
1 cup fresh/frozen coconut
1 tea spn cumin seeds(jeera)
6-7 peppercorns
3-4 red chillies
1/4 tea spn tamarind extract or 1-2 pieces of normal tamarind
1-2 tea spns finely chopped garlic
Oil
Salt
Method:
Heat oil and fry cumin, pepper and red chillies. Grind with coconut, tamarind and salt. Heat the ground masala with sufficient water(to a consistency of sambar) for 10min. Heat oil in a pan. Add garlic, when they turn to brownish, add to the cooked masala. Serve with hot rice.
Serves : 3
Preparation time : 10mins