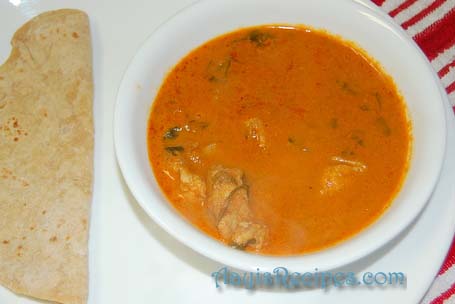 There are few days when no matter how much you try, you can't get yourself to do something. We are having a horrible weather here, sometimes too cold and windy. So all I want to do these days is sleep :). So I have been not keeping up with my pace of one recipe every alternate day. I could not even work on so many improvements which I wanted to do to the blog. Anyway, I am hoping to get adjusted to this weather soon. When the weather is this bad, all I can think of is some hot and spicy dish prepared by aayi. One dish that is lingering in my mind is this spicy shark gravy.
This is one of my all time favorite recipes. Its been sitting in my drafts for a long time now. Aayi had cooked this for us when she visited us 3 months ago. I had posted the traditional shark gravy recipe sometime ago. This recipe with garam masala is one of my aayi's creations. Since shark pieces look/taste something like chicken, she makes this. At my home, we all like this more than the traditional recipe. Its absolutely yummy. We love to eat this with chapathis.
Read more about shark here.
Ingredients:
15 pieces of shark (mori)
1 tea spn coriander seeds
8 cloves
1/2 inch cinnamon
3/4 tea spn fennel seeds(badishepi)
3/4 tea spn shah jeera
4 peppercorns
1 tea spn poppy seeds
1/2″ piece nutmeg
4-5 red chilies
1 and 1/2 cups frozen/fresh coconut
3/4 cup chopped onion
1 tea spn ginger-garlic paste
1/2 cup chopped tomatoes
3-4 strands coriander leaves
Oil
Salt
Method:
Heat oil and fry coriander seeds, cloves, cinnamon, fennel seeds, shah jeera, peppercorns, poppy seeds, nutmeg for sometime. When they are half done, add red chilies and fry for sometime. When a nice aroma comes out, add 1/4 cup onion and fry till onions turn slightly brownish. Add coconut and fry for about 3-4mins. When it cools to room temperature, grind this to a smooth paste.
Heat oil and fry remaining onion till they turn brownish. Add ginger-garlic paste, fish pieces and fry for about a minute. Now put tomato pieces, fry for a second and then add masala and salt. When it starts boiling, garnish with coriander leaves.
Serve hot with rice or chapathis.
Serves : 3-4
Preparation time : 20mins