How much push a person like me (who loves cooking & baking) needs, to try something new? A year ago, I would have said, not much!, but I have become a very lazy person lately. I keep thinking about cooking something, but it never happens. I make something simple and get away with it. I do not like this phase at all!. I call it a phase because I want to get back to the way I was.
Now, coming back to this recipe – Many months back, I saw this on Baking with Julia on Create TV. Then I saw it again and again and again on those repeat shows. Every time I made a mental note to try it out, but never got to it. Then few days ago, I got an email from Pallavi about her event I Must Make that. I haven't participated in any blog events in a very long time, but I wanted to send something for this and the first thing that came to my mind was this cake. It had a deadline of Valentine's day!. White chocolate and raspberry are two of V's favorite things in the world. So I had to bake this cake.
We celebrated Valentine's day with this cake. I baked this one day before, so that I can post this here. It is one of the simplest cakes I have baked. It needs a LOT of eggs, I do not think you can substitute them with anything because we do not use any baking soda/baking powder in this. The cake is super spongy and very tasty. I think I will be making this very often. I followed the recipe exactly, which yielded very good results.
Ingredients: Cake
12 ounces white chocolate chunks
1/2 stick unsalted butter
2 tbl spn water
1/2 cup all purpose flour + 1 tbl spn corn starch (or use 1/2 cup cake flour)
10 egg yolks
6 egg whites
3/4 cup sugar
Crush:
12 ounces frozen raspberries
2 tbl spn sugar
1 tea spn lemon juice
Fresh raspberries for decorating
Method:
Preheat the oven at 320F. Grease two oven safe pans with melted butter. Line them with a parchment paper (the paper helps while un-molding the cake).

Take white chocolate, water, butter in microwave safe bowl and microwave for 1min. Whisk the contents till the contents come together into a smooth mixture. (This is usually done on a double boiler, but I feel melting chocolate in microwave is much easier and less clean up). Let it cool to room temperature.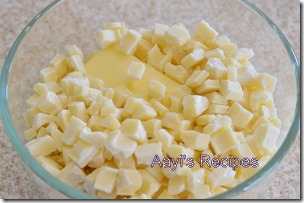 Sift together flour and corn starch (or sift cake flour).
Whisk the egg whites till soft peaks form. Then add 1/4 cup sugar and whisk them again. (I did this in my stand mixer fitted with the whisk). Slowly transfer them to another bowl.
With the paddle attachment, beat the egg yolks with remaining 1/2 cup sugar till the mixture is pale yellow and slightly thickened. Now add the melted chocolate mixture and beat again till everything comes together.

Now with a spatula, slowly mix the flour in the mixture. Fold in the egg whites.

Divide the batter between the two cake pans. Bake in the preheated oven for about 26mins to 30mins or till the cakes are done. Let the cakes cool down completely.

For the craush – Blend frozen raspberries, lemon juice, sugar and push the mixture through a strainer.

Take one cake on cake board. Slightly press down on the edges. Spoon about half the amount of the raspberry crush on it. Then keep the second cake and do the same.
Top with fresh raspberries.