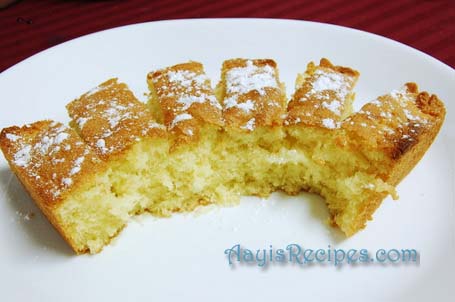 Sharing the cake recipes, that I have tried recently, was on my to-do list for a long time. I thought may be I can start with this cake. I have posted banana cake recipe a few days back, but this will be the first recipe anybody will give you, if you want to learn baking cakes).
I am successfully pursuing the baking art and its whole and sole credit should go to my Pachi(Aayi's sister). When I was a kid, many times I observed her baking some delicious cakes. I always wondered, 'How she manages to do that? Only professional bakers are supposed to do that!!! Its such a big procedure'. I never thought one day I would bake cakes!!. I never even tried to ask her about the recipe.
Then when we got our first oven, Pachi gave me this recipe. I prepared it and it was so good and it was so easy :D. Still this cake is on my favorite list.
Ingredients:
1 cup butter
1 and 1/4 cups sugar
1 and 1/2 cups maida or All purpose flour
1 tea spn baking powder
4 eggs
1 tea spn vanilla essence/extract
Method:
Preheat the oven at 350F for 10min.
Sieve together flour and powder. Keep it aside.
Beat sugar in butter till it becomes a smooth paste. Then add one egg at a time beating it all the time. Add essence and mix.
Add flour 1 tbl spoon at a time mixing slowly.
Grease an oven safe dish with butter. Then sprinkle some flour on it and spread the flour. Now pour the cake mixture into this dish and bake the cake for around 40min at 350F (or till a knife inserted in the cake comes out clean).
Serves : 4
Preparation time : 1hr