Hi all, hope you all are still reading this blog!. It is getting harder and harder for me to keep this place updated. My 18 month old is already in his terrible twos and likes to get into everything. So my cooking has been limited to very basic things and whenever I made something special, I forgot to click pictures!.
Ishaan has been asking for chocolate chip cookies for a long time now. I finally baked these raisin and chocolate chip cookies a couple of weeks ago. Since Ayaan loves raisins, I decided to add some to it. I personally loved chewy texture due to the raisins. I prepared these with multi grain flour that I use for making chapatis.
I used Nestle' toll house chocolate chip cookie recipe and made few changes to it.
Pictorial:
Mix sugar and butter. Then add eggs, vanilla extract.

Sieve together flour and soda. Add to butter and egg mixture.
Add raisin and chocolate chips.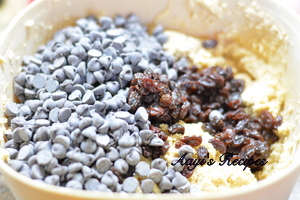 Spread the mix on a sheet and bake.

Raisin and Chocolate Chip Cookies
Soft and chewy cookies loaded with raisins and chocolate chips.
Ingredients
2

and 1/4th cup multi grain atta or whole wheat flour or all purpose flour

1

and 1/2 cups granulated sugar

1

cup

semi sweet chocolate chips

1

cup

raisins

1

tea spn vanilla extract

1

cup

butter

2

eggs

1

tea spn baking soda
Instructions
Preheat the oven at 350F.

Combine flour and baking soda in a bowl. I sieve them together in a separate bowl.

Beat butter and sugar.

Then add eggs, one at a time beating them well.

Mix in vanilla extract.

Now add the flour mixture, a little at a time and mix well.

With a spatula, mix in raisins and chocolate chips.

Line a baking sheet with parchment paper or grease the baking sheet with butter and flour.

Drop the mixture on the sheet by a spoon.

Bake at 350F for about 15-18 mins.

Let them cool to room temperature and then store in air tight container.
Notes
I used salted butter. If using unsalted one, add 1/2 tea spn salt.