Until very recently, I didn't know what a 'pie' is. So one day my hubby comes home from office –
Can you make soft juicy pies?
Me – Which one are you talking about?
Today my boss brought one pie, it was amazing.
Me – What pie was it?
It had chocolate, pecans in it. Very soft and fluffy, had a crust, thick layer of something and on top cream with nuts.
Me – From where did he get it?
He said his wife made it. He said it was pecan pie.
Me – (Thinking – whatever I do, he is going to say it is not same, so let me get the recipe from him and then I can worry about it) Ok..ask him to get me the recipe from his wife. I will make it for you.
Okay I will.
Few days passed. Again one fine day…
Can you make that pie?
Me – Did you bring the recipe?
I will ask.
One or two months had already passed from the day he had tasted it. Finally after pestering him continuously about it, he asked his boss about it. He told, his wife buys this pie mix from one of their friends and if we want, he can get few samples for us. Finally I had 3 packets of sample pie mixes with me.
After keeping it in my pantry for one more month without touching it, I finally decided to give it a try. Here I applied my *super-intelligent* brain which gives me wrong signals most of the time. Even though it was not mentioned anywhere in the instructions, I baked the pie. It was a total disaster. I started pestering him again to ask proper instructions and he kept on forgetting it. After few days of wondering, I tried second batch. I didn't bake it this time, but somehow the cream was still in liquid state and he said, it was somewhat okay, but not like what his boss had brought. So I gave up, I said, you ask him or else I will not use the third batch.
Then when my parents were here, I used the third batch. By this time, I had tasted pies once or twice in restaurants and knew what it was. So my pie was perfect. Well…I had followed the instructions thoroughly this time. So much for doing *constructive* thinking on first and second batch ;).
Now we were out of all the samples and his boss had left the company. So, I had to come up with a recipe which was atleast as good as the one we had tasted. One fine day, I decided I was going to try something with ricotta cheese and cream cheese that I had in my refrigerator. I started with something else, and finally I had created this pie.
Ohh..it came out so delicious. his comment?? "This is the best pie I have ever tasted" :). I could not wait till I shared this with you all. This was the most successful experiment I have ever done. You will only know when you taste it.
Ingredients:
8oz cream cheese (1 pack)
1/2 cup ricotta cheese
9″ Graham ready crust
3/4 cup sugar
1/2 cup milk chocolate morsels
2 eggs
1/2 cup chopped pecans
Coffee powder
Whipped cream
Method:
Melt chocolate on a double broiler – In one big pan, heat water. On the top, keep another bowl containing chocolate morsels, so that the bottom of the bowl dips in the boiling water. Keep mixing the chocolate with a spoon. When the chocolate melts, switch off the heat. Let the chocolate cool.
In a separate bowl, mix cream cheese, ricotta cheese, sugar. Add eggs one by one mixing all the time. Add the pecans and mix. Now pour the chocolate(which is at room temperature). Mix well.
Pour the mixture in pie crust.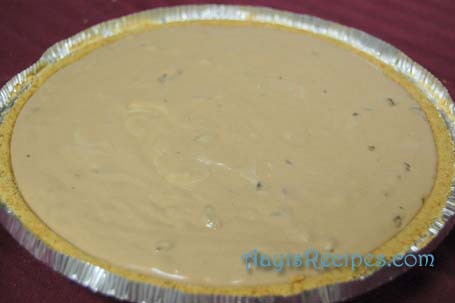 Preheat oven at 350F for 10mins. Bake the pie for about 25mins till it is set.
Cool to room temperature. Spread whipped cream on the pie. Refrigerate it for 4-5hrs.
While serving, cut wedges from the pie. Sprinkle coffee powder on top. Serve.
PS: I had sprinkled coffee before refrigerating. So when we tasted this, the coffee taste was not very prominent. So if you want very good coffee aroma, sprinkle just before serving.