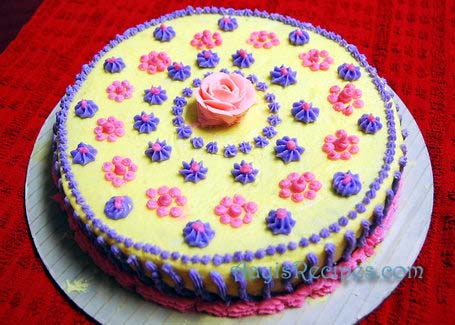 This is my first cake which I decorated in Wilton course 1 – class 2. I am not happy with my decoration, but for the first cake, I think it is okay. I didn't make the rose which is in the center of the cake. Our instructor was teaching us making a rose and I just could not let her destroy that rose.
I wanted to seriously work on my hobbies in my free time, but I don't know when I will be free again, so I thought of taking a step towards it right away. So finally a long time dream came true. I joined Wilton's cake decorating classes. Thanks to Archana who gave me all the inspiration I needed to learn cake decorating. Thanks Arjuna for letting me know about Wilton classes.
We have an amazing instructor for our Wilton classes. She is an old lady, may be 80+ years old, who has taught for around 37years. I will update with more information and a small interview with her tomorrow.
Update: A conversation with my teacher at Wilton classes
I got to know that Michaels has Wilton classes from my colleague, and then I went to the store which is just across the street from my place. I saw a notice at the entrance about cake decorating course-1 which had just started 2 days ago. I had missed it by 2 days. I was so upset. I went to the cashier and asked about the next class. She said classes are not conducted if they didn't have 3 students and she asked us to come back in the last week of February. I continued going to that store every week, even though she had asked me to come in the last week, just because I didn't want to miss the March classes. Finally in the last week, she had the schedule and there were 8 students!!!. She asked me to come on Wednesday(classes are on Thursday) and check and see if I still want to take class. I said, I can't wait till then so just sign me up :). That one week I counted every minute for my class to start.
Thursday I reached the class at 6PM though I knew the class was at 6.30PM. There was this old lady who was arranging all her cake decorating materials. She said her name is Barbara and she is the instructor for the classes. I could not believe it for sometime. I had imagined a young/middle aged women to be the instructor. I was so thrilled that I would be learning it from a person as experienced as her. She is a super active person. She keeps walking around and she is full of energy for her age. Hats off to her. More than the fact that I am learning cake decorating, I am thrilled to learn it from Barbara.
First class was just introduction. Barbara decorated a cake and asked us to watch her. She had decorated a beautiful cake in just a matter of 10mins. All along she gave us so many tips about baking cakes, icing them, the consistency, the flavor etc. She also told us how it is done in bakeries. In those 2 hours I realized, I would remember these tips and guidance given by her throughout my life.
In the second class, I asked her some questions about her background and how she started all this. Following is the conversation.
Me: How did you learn cake decorating?
Barbara : I am a self taught person. I started decorating cakes by looking at the recipes/methods given in Wilton's newspapers. There were no classes at that time. Those were the days, when we didn't even have materials required in this city.
Me: How old were you at that time?
Barbara: I don't remember, but I had three kids. I may be in my late twenties then.
Me: How did you start teaching in Wilton classes?
Barbara: I used to live in Wichita(a small city in Kansas state) at that time. My husband was working in city. I used to take care of farm and my husband had a job in city. My husband asked me to start teaching in these classes, but I said I don't think I can do it. But finally he persuaded me into it and I joined a Wilton class and for the first time learnt it in a class. He was very supportive of me. There were few other girls who did the classes with me. Many of them are no more now, or some have left teaching. The only other person who has taught for so long, is in California.
Me: So after learning, you started teaching in Kansas? Is this the only Michaels you have taught in?
Barbara: Yes, I started teaching in Kansas. This store has started few years ago may be in the late 80s..may be. I have taught throughout Kansas in many different places. We used to get our materials from Chicago, because we were not having the supplies here. When I mentioned this to the managers here, they started selling them here. Now a days they are available in many stores in Kansas.
I am a member of ICES(International Cake Exploration Societe) and usually attend their events. This year also I am going to attend. I will bring the details next time, if you want, you can attend. They have all the rare collection of materials which are not available easily. I know most of the popular chefs from Food Network since they all attend this event.
Me: When did you start your bakery?
Barbara: I started it in around 1990s when my husband died. I could not continue managing the bakery for long and I had to shut it down. I kept the materials which I thought will be useful for me. Other things we had put on sale.
I have made many wedding cakes. I still make a lot of birthday cakes for my grand children and other children in the neighborhood. I came to this Michaels store when this started, the manager wanted me to come here.

—- . —–
I was very inspired and thrilled after having this conversation with Barbara, it was a pleasure talking to her. When you meet experienced people like her, who are committed to their interests in art, cooking, baking etc, it's completely filled with awe.
She keeps asking us if our husbands are supportive of what we are doing. When we say yes, she feels very happy. My husband comes to pick me up after the classes and she feels so happy to see him there.