Last few days have been busy. I hosted a surprise baby shower for my dear friend. This was the first big event I hosted at my home (after the house warming). We had total 13 families. I am good at hosting parties where I do everything. But here we decided to divide the task. It was a learning experience for me to coordinate between so many families. In the end, everything worked so well and we all had awesome time. I did not know most of the families that attended the party, but once we met, everybody had great time together.
Two of the friends took care of all the decorations. These were the baby shower experts, so they gave lot of ideas. We decided the menu and asked everyone else to pick a dish from the menu. We had chips and salsa, pani puri, papdi chaat, khasta kachori, pulav and pav bhaji. The food was lipsmacking good.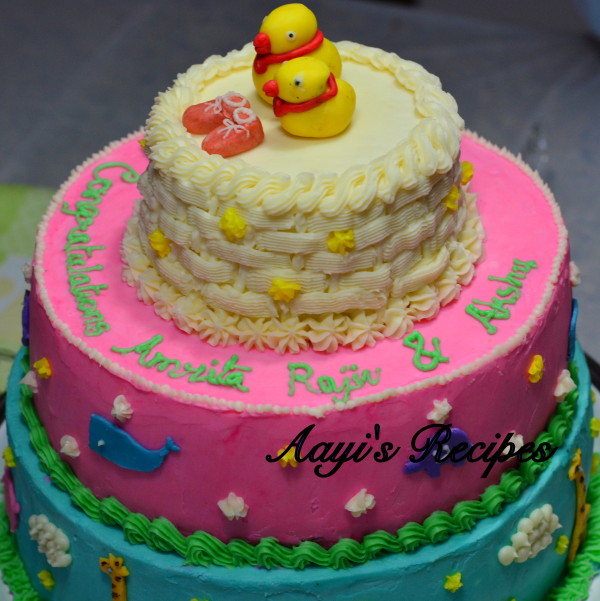 I baked and decorated this cake. Most of the crowd was strictly vegetarians. So it was challenging for me to make it completely vegetarian – no eggs, no gelatin. I frantically googled for many days to figure out the best recipe but then decided to go with one of my tried and tested cakes. If you know me, you also know that I like to tweak the recipes. So I took this cardamom cake recipe and changed it to chocolate cake.
Eggless Chocolate Cake
A simple eggless chocolate cake with condensed milk
Ingredients
2

and ½ cups cake flour

see notes below

2

tea spns baking powder

1

tea spn baking soda

1

can

14oz sweetened condensed milk

1

cup

orange juice

1/4

cup

cocoa powder

1

cup

butter

I used salted butter
Instructions
Preheat oven at 350F for about 10mins.

Grease a baking dish with butter and flour, keep aside.

Sieve together dry ingredients - cake flour, baking powder, baking soda, cocoa powder and keep aside.

Take condensed milk and butter and beat till well mixed.

Alternately add orange juice and dry ingredient, a little at a time and mix gently.

Bake at 350F for about 40-45mins till a tooth pick inserted in the center comes clean.
Notes
The secret behind good eggless cakes is to take time in mixing butter and sugar to incorporate as much air into it as possible. So take enough care to mix butter and condensed milk. Beat them till they are well mixed and almost frothy.
I did not have cake flour. So I made it at home. Take 2 and ½ cups all purpose flour and take out 5 tbl spns from from it. Add 5 tbl spn corn starch to it.
Remove the cake from the pan while it is still hot. Let it cool completely to room temperature on a wire rack.
Since I didn't want to use fondant, I had to use buttercream frosting. I love the buttercream because it is easy to work with but I hate the taste because it is super sweet. This is one of the reasons I was using cream cheese in my previous cakes. But there it was, staring at my face! The reason why I loved the cream cheese was because the salt in it made the frosting less sweet. So the solution was easy. I used the salted butter to make the frosting!. It was the best tasting frosting ever. It gave me the finish I wanted and everyone was literally picking up the frosting and eating it.
Buttercream icing
A tasty and easy to work with buttercream
Ingredients
1

cup

2 sticks salted butter at room temperature

4

cups

confectioners sugar

1

tea spn vanilla essence
Instructions
Sieve the sugar to remove any lumps.

Beat the butter together with sugar till it is well mixed.

Add vanilla essence and whip it.
How I assembled the cake –
After the cake completely cooled down(I refrigerated overnight), I cut the cake horizontally.
Brushed the cake couple of times with sugar syrup. I made the sugar syrup by boiling about 1 cup water with 3 tea spns sugar till sugar melted. Then added a tea spn of vanilla essence to it.
Then spread a layer of chocolate ganache, followed by a layer of whipped cream (Whip the cream with a little sugar and vanilla essence) in between two layers of cake.

Then I frosted the cake with buttercream.
All the animal decorations were made with white modeling chocolate (12 oz white chocolate chips and 1/3 cup light corn syrup). It is a bit challenging to work with this modeling chocolate, but the animals were very tasty.