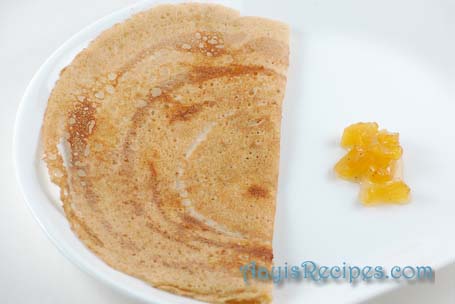 No matter how many different varieties of dosas I make, I am always open for new recipes. I feel they are great for breakfast as the main work – making batter, is done in advance. This is a healthy version with whole wheat. I have become a big fan of these dosas now. These are very crispy and tasty because of all different dals.
Ingredients:
1/2 cup rice
1/2 cup urad dal
1/2 cup masoor dal
1/2 cup whole wheat
1/2 tea spn fenugreek seeds
1/2 tea spn cumin seeds
4 green chillies
1 tea spn sugar
Salt
Method:
Soak rice, urad dal, masoor dal, whole wheat for 4-5hrs. Grind these along with all other ingredients to a smooth batter. Leave it overnight for fermentation.
Next day make thin dosas and serve hot.
Serves : 4-5
Preparation time : 20mins