My love for the popular Maharashtrian dish Thalipeeth started in Belgaum. They are healthy, very delicious  and the best part is, they are easy to make. As much as I love the thick bhakris and thalipeeths, V is not such a big fan. I have been trying to make different types of these bhakris/thalipeeths lately in the hope that he will start liking them some day. That would also give me loads of easy options for breakfast.
One of my favorite ingredients to experiment with is vermicelli. Somehow I keep reaching to the vermicelli jar. I make simple upma, vegetable upma, idlis etc with it. Recently I tried this thalipeeth with vermicelli and it turned out delicious. The best part for me was, the child loved it.
Here is a thalipeeth recipe that I used to make frequently. Check out Nupur's thalipeeth recipe.
Ingredients:
3/4 cup vermicelli
3/4 cup sooji/rava
1/2 cup rice flour
1/2 cup wheat flour
1/2 cup chopped onion
2 tbl spn chopped coriander leaves
1/4 cup fresh/frozen coconut
1 tea spn chili powder
1 tea spn cumin seeds
1/4 cup yogurt
Oil/Ghee
Salt
Method:


Heat a little oil and fry vermicelli, sooji till they slightly turn brownish. Keep them aside till the mixture cools down to room temperature.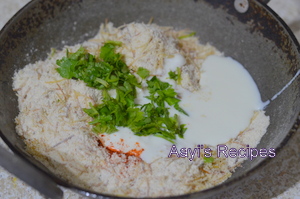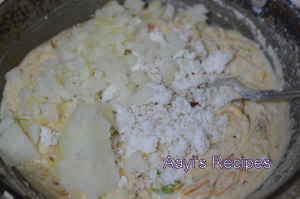 Add rice flour, wheat flour, onion, coriander leaves, coconut, cumin seeds, yogurt, salt, chili powder to the vermicelli mixture. Pour in a little water to make a thick mixture.

Heat a tava and spread some oil/ghee on it. Then with your fingers, spread a thick thalipeeth on the tava. Close a lid and let it cook. Then turn it upside down and spread little more oil/ghee near the sides (optional, this makes it crispy).
Serve hot.
Serves : 2-3
Preparation time : 30 mins