Paddu(Kannada), appe(Konkani), ponganalu (Telugu), paniyaram(Tamil), unniyappam(Malayalam), is one very popular dish in South India. To make this we require a special paddu tava (Appe Kayli), which looks like following.
Usually we get two kinds of tavas, one of black colour(of cast iron) and other silver color(I guess it is aluminium). In silver one the batter does not stick to tava, so preferably use that. These days we get non stick paddu tava, which looks like following. If using cast iron tava, grease it with oil in the night and use it for making paddu next day. By doing this, paddu does not stick to tava.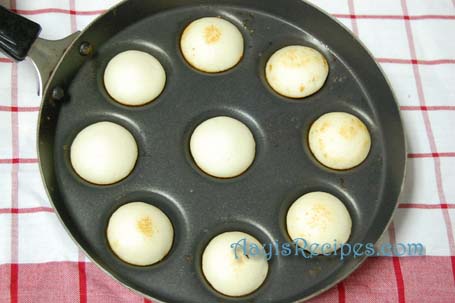 Click here for sugarcane juice appe.
Urad Dal Paddu(Udida Appe)
Ingredients
1

cup

urad dal

2

cups

rice

1/2

cup

avalakki

poha

Salt

Oil
Instructions
Soak dal and rice in water for about 3-4hrs.

Grind with poha(washed in water to make it soft) and salt.

Make it to the consistency of dosa batter.

Keep overnight for fermentation.

Heat the tava & add little oil.

Pour the batter in the tava(mix the batter well before using it).

When it is fried from one side, turn & cook on other side.
Notes
You can add chopped onion, coriander leaves and green chillies to the batter