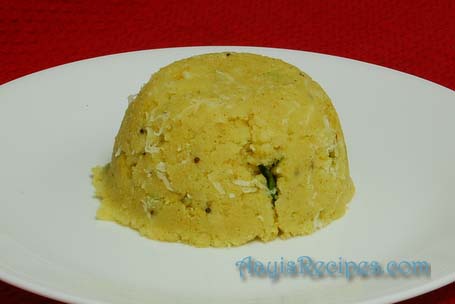 Some of you might wonder, why am I posting upma here? This is one of the most famous and extremely easy breakfast. I think this is the recipe learnt by most of the people in their early days of cooking. But I am an exception to this. Though I knew the recipe for upma very long back, I prepared the most horrible upma until recently. I even stopped making it, because every time I prepared it, it became like cement :D.
Two years back when I was staying with by brother and cousin, I tried this many times. Each time when I prepared it, all used to run away. So after my marriage, I never tried making it. Then after repeatedly forced by my hubby, I gave him the warning, 'I will prepare it and you HAVE to eat it, does not matter if it is good or bad'. Somehow, that day it came out well :).
My mom prepares 3-4 types of upma. I am going to post all of them here this week. Hope you all enjoy the upma week. BTW…I used to wonder, how a person can like upma until recently. Now I have started liking it.
I will start with the most basic upma. It is usually prepared in temples or during functions at home (when there is a lot of things to do for lunch, so usually people make something simple like upma for breakfast) or during wedding. This does not have onion in it. Usually served with sev.
Ingredients:
1 cup sooji (upma sooji or wheat rava)
1/2 tea spn mustard seeds
1/2 tea spn urad dal(optional)
A pinch asafoetida
Oil/ghee
1/2 tea spn sugar
2-3 green chillies
4-5 curry leaves
1 tbl spn fresh/frozen coconut
A pinch turmeric
Salt
Method:
Roast the sooji on a low flame till a nice aroma comes out. Take out on a plate.
Heat oil and add mustard, urad dal(optional). When mustard starts popping and urad dal turns slightly brownish, add curry leaves(cut the leaves into two to enhance the aroma). Add asafoetida, turmeric and green chillies. Now add sooji(rava) and fry on a low flame for around 6-7mins (take care not to burn the rava). Add salt and sugar, mix well.
In a separate bowl heat 2 cups of water. When it starts boiling, transfer it to the rava mixture. Cover and cook till all water is absorbed. Mix well. Add coconut.
Serve hot with or without sev.
Serves : 2
Preparation time : 20mins
PS: The sooji can be roasted in bulk and saved for future uses.