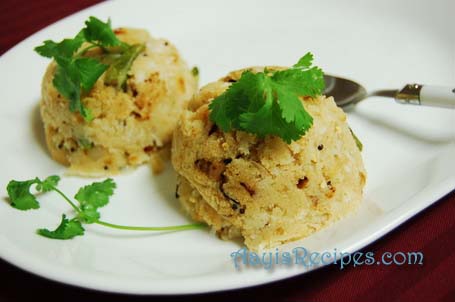 Among all upmas, this version and the one with peas were/are my favorites. Mom uses her home made sambar powder for this. Vayngan, is eggplant(brinjal) in Konkani. In North Kanara, upma is NOT served with chutney, but it is served with sev. It is usually a bit dry compared to the one we get in restaurants in Bangalore.
In Bangalore, I have seen people using eggplant in upma. Its usually called 'Kharabhath' and was served with coconut chutney. I think they use more water compared to normal upma, so this used to be semi dry. In my previous office, we used to get evening snacks and whenever they served this kharabhath, we all used to skip the snacks :D.
Ingredients:
1 cup sooji(wheat rava)
1/4 cup brinjal (cut into small pieces)
1/4 cup onion (cut into small pieces)
1/2 tea spn mustard seeds
1/2 tea spn urad dal(optional)
A pinch asafoetida
Oil/ghee
1/2 tea spn sugar
3/4 tea spn Sambar powder
1 tbl spn fresh/frozen coconut
A pinch turmeric
Salt
Method:
Heat oil and add mustard, urad dal(optional). When mustard starts popping and urad dal turns slightly brownish, add curry leaves(cut the leaves into two to enhance the aroma). Add asafoetida, turmeric and onion. Fry till onions turn translucent. Add brinjal pieces and fry for around 5mins.
Now add sooji(rava) and fry on a low flame for around 6-7mins (take care not to burn the rava). Add salt and sugar, sambar powder, mix well.
In a separate bowl heat 2 cups of water. When it starts boiling, transfer it to the rava mixture. Cover and cook till all water is absorbed. Mix well. Add coconut.
Serve hot with or without sev.
Serves : 2
Preparation time : 15mins