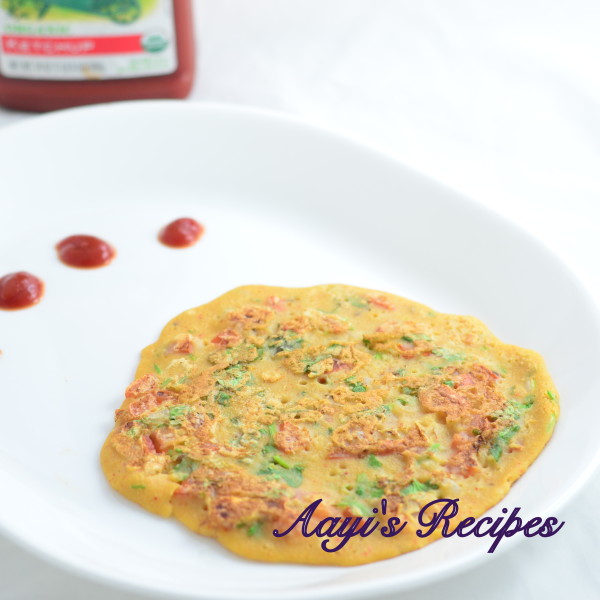 Most of the people from and around Maharashtra might know this simple and tasty tomato omelet (vegetarian) / omlet. I was introduced to this dish in Belgaum. I am not sure where I ate it first, but I liked it and I used to make it regularly for my breakfasts or for snacks. But somehow after my marriage, I kind of forgot about this. I felt my husband might not like the taste of it and stopped making it.
Then one day, few months ago, Aruna sent me a recipe for it. Since I had a pathetic tava at that time, I was a bit hesitant to try this. Then one fine day when I ran out of all ideas for breakfast, I tried this and I simply loved it. But due to bad tava, the picture was not at all worth posting here. Few days ago, Aruna again reminded me about this and also sent me some more additions. Thanks to her suggestion, now I have one of the best frying pans which can also be used as tava and the first dish I tried when I bought those pans was this omelet. To tell the truth, this version of tomato omelet has an amazing taste and I loved it more than what I had tasted before. This can be prepared literally in minutes, so this has become one of my favorite breakfasts to cook as well as eat. Do try this version to know what I am saying. Thanks Aruna.
Tomato omelet (Vegetarian)
A healthy vegetarian omelet made with tomatoes and different flours
Ingredients
3/4

cup

gram flour

besan

1/2

cup

wheat flour

optional

2

tbl spns fine wheat sooji/rava

3/4

cup

finely chopped tomato

1/2

cup

finely chopped onion

1/2

tea spn cumin seeds

1/2

tea spn chopped ginger

1

tea spn chili powder or 2-3 finely chopped green chilies

1/2

tea spn coriander powder

optional

1/2

tea spn cumin powder

optional

3-4

strands chopped coriander leaves

A pinch turmeric

Oil/ghee

Salt
Instructions
Mix all the ingredients (except oil/ghee) with water to get to dosa batter consistency.

Heat tava(nonstick preferred), spread the batter into thin omelets.

Drizzle some oil/ghee on top.

Turn the omelet upside down and fry on other side.

Serve hot with tomato ketchup (or mint chutney).