Shevayi/sevai in Konkani or Shavige in Kannada or rice noodles in English or idiyappam in Malyalam is my all time favorite breakfast. Some Konkanis make it even for lunch, but it was always served as a breakfast at my home. Aayi's shevayi were one of the best rice noodles I ever had.
We had the traditional shevayi press (called as 'shevayi dante') at home. It looks like following.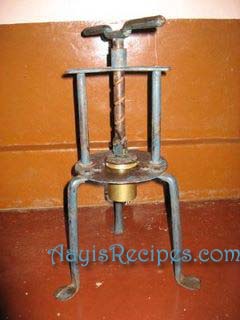 My mom would make me or my brother help her in making this. Usually first few rounds of shevayi are easiest ones to make. So we would retire after 4-5 rounds. As the shevayi dough cools, it is very hard to press them, so my dad would help her with remaining. She usually served it with chutney as we didn't prefer the sweet taste of 'rosu' (sweet coconut milk). But usually the combination of shevayi and rosu is very famous among Konkanis.
The traditional Konkani shevayi recipe (with coconut in it) has a long procedure and then it requires a lot of expertise to get the perfect shevayi. Mom preferred making it without coconut since the chances of breaking shevayi in small pieces is less in this method and comparatively the procedure is very simple in this way. I haven't tried the traditional recipe any time, tried aayi's recipe for the first time last week and it came out superb. Since I was not having the traditional press, I used the normal chakli press.
It's a bit hard to press these shevayi in chakli press, so use somebody's help (as in, husband :D).
Idiyappam naazhi(press) can be bought from here.
Aayi's recipe for shevayi
Ingredients:
Boiled rice (use the white one to get white shevayi) 1 cup
Salt
Method:
Soak the rice in water for around 8 hours. (Soak in the morning so that it can be ground in the evening and shevayi can be prepared the next day).
Grind it to smooth dough. The dough consistency should be in between idli and dosa dough. (Not too watery like dosa dough and not too thick like idli dough). The dough should be very very smooth (Use cold water while grinding to avoid too much heating of mixer/grinder. Touch with hand and the small rice particles should not be felt). Add salt and keep it aside for overnight at a warm place for fermentation (since there is no daal, it will not ferment much like dosa/idli batter, but it will ferment a bit).
If there is too much water standing on top of the batter, discard it. Grease idli stand and pour the dough in it. Steam the idlis for around 10mins.
Grease the press with oil(preferrably use coconut oil) and take 2-3 idlis at a time in the press and turn the handle of press to get shevayi. (Keep the remaining idlis closed, if they become cold, it is almost impossible to press them. After each round, grease the press with oil. Usually coconut oil is used to grease the idli stand as well as the press. This increases the taste).
Serve it with chutney or rosu.
Note (added on Aug 19): Use one tea spoon of coconut oil/butter while grinding the batter, this makes the shevayi more tasty. (I got this tip while googling and it worked out for me).
Serves: 2
Preparation time: 40mins
Rosu (sweet coconut milk)
Ingredients:
Coconut milk (thick) 1 cup
Jaggery 1 tbl spn
Cardamom powder ½ tea spn
Method:
Mix all the ingredients till the jaggery dissolves in coconut milk. Add water if necessary to bring it to desired consistency.
If coconut milk is not available, grind frozen/fresh coconut with water. Strain through a tea strainer. Repeat the procedure 2-3 times with the coconut to take out as much milk as possible. Discard the remains of coconut (I prepared coconut burfi with this).
How to eat them?
Dip the shevayi in rosu and eat.

Traditional Konkani method of shevayi : Here boiled rice is not used, instead any normal rice and coconut is used.
Ingredients:
Rice 1 cup
Coconut 1 cup
Salt
Method:
Soak rice for 2-3 hours. Grind it with coconut to a smooth paste.
Heat a large pan, pour the dough and keep mixing it. Cook till the mixture becomes thick and finally turns into a ball like chapathi dough (it takes around 10mins). When it is still hot, make big balls of this dough and steam them in cooker (like idlis) for around 10-15mins.
Take the balls in the greased press and make shevayi.
With this method, there are chances of breaking shevayi in small pieces. If the consistency of coconut becomes more or less or the dough is not cooked properly, the shevayi does not come out in long strands. So I prefer the first method, where chances of screwing up the shevayi is less :D.
Serves : 3
Preparation time : 90 mins