Like Malyalees, Konkanis love shevayi/idiyappam/sevai/shyavige. I was a huge fan of them while growing up. At my home, aayi makes the boiled rice version of these noodles for breakfast. I like that version since it is very easy to make and more healthy. But I wanted to post this, more popular method also here, for a long time now. These are bit easier to press because of the coconut. So here it is finally. (Thanks Chitramami for reminding me about this).
At native, aayi has a special shevayi danto – an equipment to make these shevayi which looks like follows. It was bought some 30 years ago, when she was newly wed. I don't have this special equipment here, so I use normal chakli press.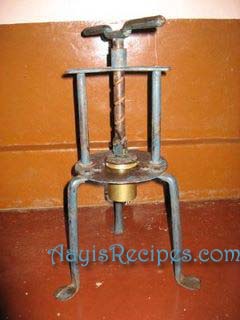 I had a hearty laugh today, when aayi told me two interesting stories about these noodles. These were the two beliefs she was told, when she made these.
– At our native village, we find all sorts of insects, ants and small animals inside the houses. Most of these are harmless. But few of them, especially ants can bite. One such family of ants, that can bite is called "kenchka" in Konkani. Their bite is pretty bad. So when these show up, people pray them to go away and they promise to offer these shevayi if they go away :)). So these noodles are prepared only when the kenchka shows up in the house.
– Around Sirsi(my aayi's birthplace), when some relatives come and stay for a long time and they don't show any signs of going back, the women make these noodles and serve. This is supposed to be a sign to say "go away" :)). So if you are staying at someone's home and they serve you these noodles, then you know what you are supposed to do ;).
I don't think anyone believe these anymore, but its really funny to know such stories.
Read Manjula's shevayi.
Ingredients:
1 and 1/2 cup rice
1 cup fresh/frozen coconut
Coconut oil
Salt
Method:
Soak the rice in water for around 3-4 hrs.
Grind it to a smooth paste with coconut and salt, adding required amount of water. Its okay if the batter becomes watery.
Now heat this batter in a nonstick(preferably) pan. Keep mixing till all water evaporates and the dough becomes dry.
Make balls of the dough and steam them in cooker or steamer (I have a pasta cooker which I use to make rice daily. I use it as steamer also). Steam for 15mins.
Take out the balls, put them in press(apply some coconut oil to the press before putting the dough) and press to make the shevayi.
They cool immediately, so close them in a tight vessel.
Usually these are served with either mango pickle or soyi rosu(sweetened coconut milk). I like to eat it with coconut chutney also.
Serves : 3-4
Preparation time : 55mins