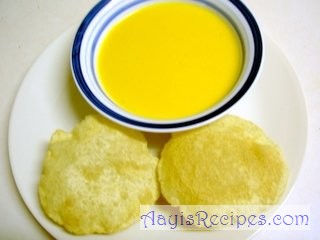 This is one of my favourite combination for breakfast. Hot puris and heavenly Amras…slurp…
This combination is a must in all North Kanara homes during mango season. We have more than 10 mango trees at home of different variety. So Aayi prepares this with fresh and ripe mangoes. This is usually prepared using Ishad(Vishad) types which have lots of pulp, though other types of mangoes are also widely used.
When fresh mangoes are not available, this is prepared using the canned ones. Recently I saw the canned Kesar mango pulp here and all I could remember was the hot puris and Amras.
Ingredients:
Mango pulp 2 cups
Milk 3/4 cup
Sugar(optional)
Cardamom(ela) powder 1/2 tea spn
Method:
Mix all the ingredients well (If using magoes, use mixie for getting a smooth amras) and serve with hot puris.
Serves : 3
Preparation time : 5min