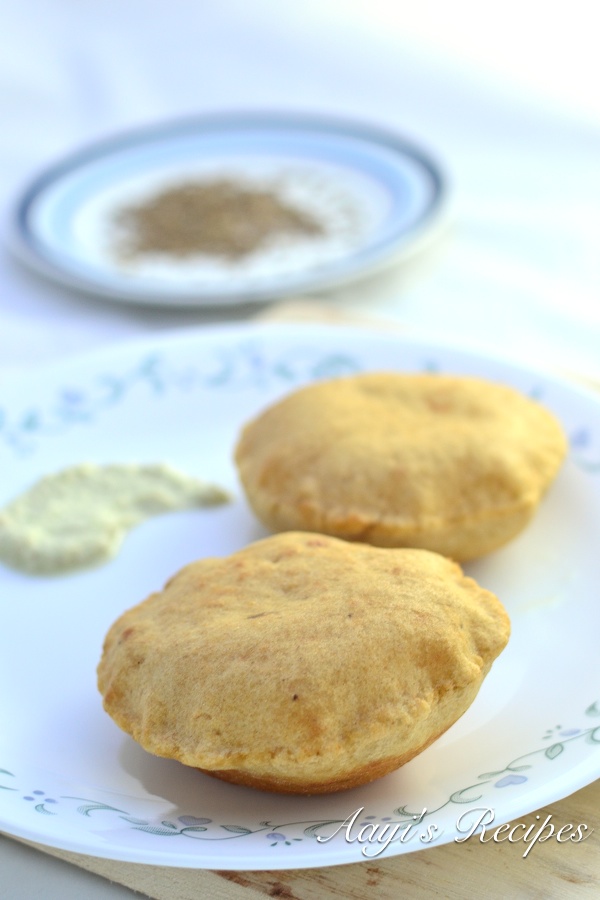 These traditional Konkani buns were in my draft for a very long time now. I agree, this should have been one of the early posts on this blog. Because this is very popular among Konkanis. But at my home, buns with pumpkin is more popular than these ones with bananas, although this version would made an occasional appearance. I have a strong aversion for banana flavor, though I eat bananas, its the aroma of bananas in any dish that bothers me. That was one of the reasons I took so long to make this dish. Then I got few requests for this version and also my cousin in law Shilpa(yeah we have too many Shilpas in our family) mailed me and asked to include this, which is her favorite dish.
Though we don't know how the name "buns" has originated, I feel one of our ancestors liked the normal buns and wanted to create it at home. But since the ovens were not part of Konkani kitchen those days, they might have started deep frying these. Just like the buns, these have the beautiful color from outside and very soft from inside. When you bite into these, it feels like biting into any other bread or bun.
So finally I gave it a try. Though the original Mangalore buns are made of maida, I made these with wheat flour as we do with pumpkin buns. These buns require some "standing time" of about 1hr or so. So I made the dough the previous day evening and refrigerated it. These came out just perfect. I added both optional ingredients – pepper and cumin seeds, so the banana aroma was not too much overpowering. I think I will be making these more frequently now that my hubby really loves these and with pepper and cumin, even I can enjoy these :).
These can be served on their own, which is infact the more popular way of eating these. But I served them with peanut chutney powder.
Ingredients:
1/2 cup over riped mashed bananas
2 tbl spn sugar
2 tbl spn yogurt
1/8 tea spn baking soda
1 and 1/2 cups to 2 cups wheat flour (traditionally maida is used)
1/2 tea spn cumin seeds (optional)
1/4 tea spn pepper powder (optional)
Oil
Salt
Increase sugar if you like them more sweet. With 2tbl spns they become mildly sweet.
Method:
Add sugar, salt, cumin seeds(optional), pepper(optional), soda and yogurt to mashed bananas. Mix well.
Add wheat flour and mix to make dough. The amount of flour specified is approximate, add enough to make a stiff dough.
Cover it and leave for about 2-3 hrs. (I refrigerated the dough overnight).
Heat oil. (I used 1/2 peanut oil and 1/2 olive oil).
Take small balls of dough and roll into small puris. Deep fry.
Serve hot.
serves : 2
Preparation time : 30mins