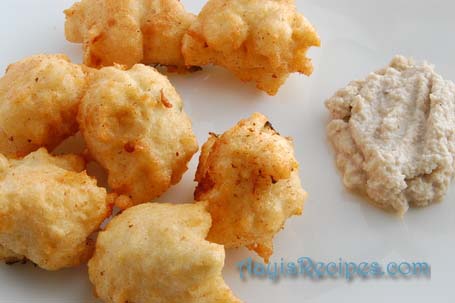 Every South Indian cuisine has its own recipe for Vadas. Here is Andhra Version of it. As Preeti says here, this is a must in any wedding meal (Vardike/lagna javan) for Konkanis.
'Biscuit ambado' is prepared as an evening snack at my home. Aayi makes these vadas with ginger chutney. Her vadas are very soft and crispy and one of the best vadas I have ever had. She always makes them in the shape of vadas (with a hole in between – called as thoothu vadas) for my brother, but usually the traditional 'biscuit ambade' has no shape, may be because giving the nice shape is extra work. I don't bother about the shape as far as I am getting the proper taste :D.
Ingredients:
1 cup urad dal
2 tbl spns fresh/frozen coconut + few pieces of fresh coconut
4-5 curry leaves
1 tea spn ginger (cut into tiny pieces or grated)
2-3 green chilies(cut into tiny pieces)
Oil
Salt
A handful of urad dal with skin makes vadas become very crispy.
Method:
Soak urad dal for around 2 hours. Grind it into a paste (with minimum or no water), the paste need not become very soft.
Add coconut, curry leaves, ginger, green chillies and salt. Mix well.
Heat oil. Drop small balls of the batter in hot oil and fry on a medium flame.
Serve with ginger chutney.
Serves : 2
Preparation time : 15mins