Aayisrecipes would not be a "Konkani site" if I had missed this dish. Hittu/khotte is one of the most popular dishes for Konkanis (This is also popular among Kannadigas). For most of the people, it is just a festival food, but at my home, aayi prepared this whenever we wanted. She made these small baskets with jack fruit leaves and then poured idli batter and steamed them to get the "hittu". Though it is just idli batter poured in these baskets, the 'hittu' gets a very distinguishing aroma from the leaves.
Hittu/khotte is usually prepared during Ganapathi festival and served along with sprouted moong sidedish(mooga moLe randayi).
The other most popular combination is called "hittu-hinga udak"(hittu with asafotida water). Hittu with few drops of coconut oil, asafoetida water, ginger pieces, fresh grated coconut, salt and green chilies. While eating, the hittu is powdered using hand, chilies are crushed in salt and mixed with coconut-asafoetida water-salt-ginger. Then the hittu powder is mixed with this coconut mixture. Few drops of coconut oil are put on top. This tastes so amazing that once you eat it, you will never ever forget the taste. (This is also done with nomal idlis).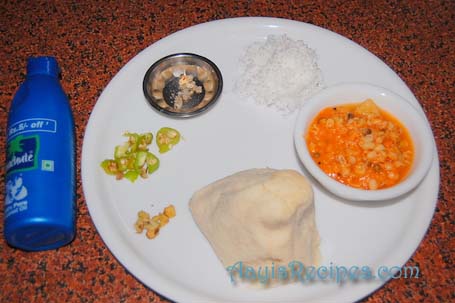 Many of us also eat the "hittu-hinga udak" combo with sprouted moong sidedish (mooga moLe randayi). The mixture is dipped in the sidedish and eaten.
At my home, we liked to eat this hittu with sambar and chutney just like idlis.
As I said earlier, the batter is same as the idli batter. But I am going to post the pictures of how to make these baskets here. These are woven with 4 jack fruit leaves and thin sticks (called as "shigir" in Konkani). These sticks are either got from the betel nut tree or coconut tree.
Hold 4 leaves with ends one upon another as shown.
Fix one leaf to the second with the help of stick. 5 small sticks are necessary to hold all the leaves together.
The leaves with the bottom woven looks as below.
Now fold two adjacent leaves taking care there is no space in between. If there are small holes, the batter comes out.
Cut the tips/ends of the three leaves. Leave one as it is so that when the 'hittu' is cooked, it can be lifted easily.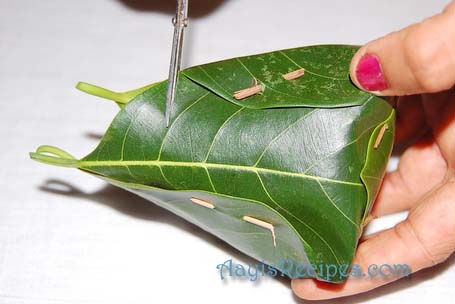 Following is the traditional steamer used to steam these 'hittus'.
Pour the fermented idli batter in these baskets.
Steam in steamer/cooker.
Serve hot.
Click here for an easy way to make these.