One of my goals for this year is to learn bread making. I have tried my hands at baking bread many times, but I still feel it is one area of cooking that I have not explored much. So from last few weeks I have been trying breads at home. I am very happy with the results so far. Now I am all ready to try some different kinds of breads. Last week I tried this Spinach – cumin seed bread and it came out very very delicious. It could be served on its own but I prepared tomato-mozerella panini and it tasted heavenly. Some of my friends asked about the recipe, so I thought of posting it here.
V gifted me KitchenAid stand mixer last year and I made the dough in it. You could definitely make it without hand mixer but the mixer makes it easier. I feel it is much easier to make breads at home compared to making chapatis which takes a lot of manual work for me.
Here is a very good tutorial that I watched which helped me while baking this bread.
Ingredients:
1 and 1/2 cups wheat flour
2 and 1/2 cups (approx) all purpose flour(maida)
1/2 cup Parmesan cheese
1 packet active dry yeast
1 tea spn honey
1 and 1/2 cups water
1 and 1/2 packed cups spinach (I used baby spinach)
1 tbl spn olive oil
Salt (approx 1 tea spn)
1 tea spn cumin seeds
1/2 tea spn pepper powder
1 tbl spn butter for brushing
Method: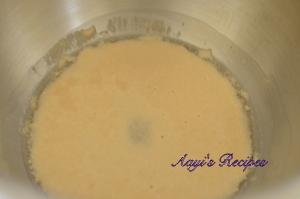 Take 1/2 cup luke warm water and add the yeast and honey to it. Leave it aside for about 10mins till the yeast becomes active.


Grind spinach to a smooth paste using remaining 1 cup water.


Add spinach, cumin seeds, pepper powder, salt, olive oil to yeast.
Now add 1/2 cup wheat flour at a time till well mixed. Add parmesan cheese and mix.
At this point, start adding all purpose flour 1/2 cup at a time. Based on lot of factors, it may take from 2 to 3 cups of white flour. For me it took 2 and 1/2 cups to get a smooth dough.
Knead the dough very well for about 10-15mins. I let the stand mixer run for about 7-8mins.


Take the dough in a greased bowl and cover with a wet towel (I just left the dough in stand mixer bowl covered with wet towel). Leave the bowl aside for about 2hrs till the dough doubles in volume.


Now punch down the dough (no need to take it out of the bowl, just punch it to remove the air). Leave it covered for another 1hr till it doubles again.
After it has doubled again, punch it down again and mix well to get a smooth dough.


Shape it into desired shapes. Keep on a parchment paper and cover with the towel again. Leave it aside for 30mins till the bread has risen again.


Preheat the oven at 350F. I used a pizza stone in the oven.
Melt the butter and brush it on top of the bread. Slide the parchment paper in the oven on top of the pizza stone.
Bake at 350F for about 20mins, pull it out and brush with butter. Put it back in oven and bake till done (It took total of 30mins for me). Immediately brush the top with remaining butter (this helps in keeping the top little soft).
Let it cool for about 15mins and then cut into desired pieces.
Makes 2 loaves