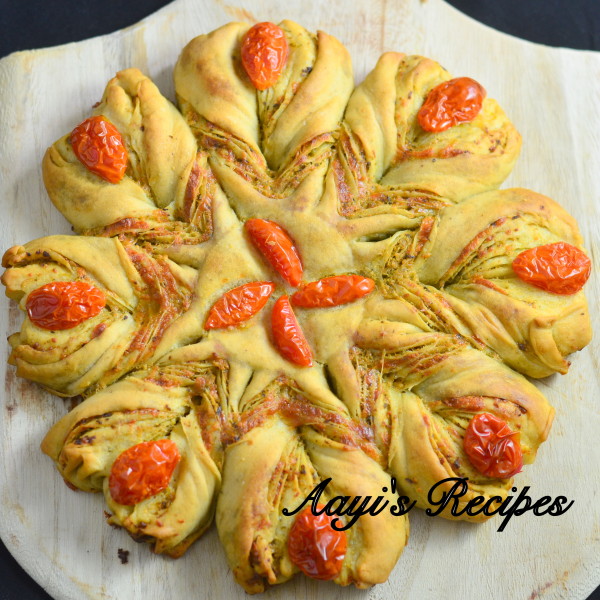 Our food habits have changed so much after we had kids. V and I grew up eating rice for lunch and dinner. But when Ishaan turned one, he preferred chapatis over rice. So I started making chapatis regularly. But we still had rice every day. Now after Ayaan was born, I had to come up with dishes that did not take a lot of manual work. We have started eating more salads, burgers (homemade, healthy ones), pastas, grilled fish/chicken etc, anything that saves me time. Sometimes dinner is ready in less than 30mins. There are two days a week when Ishaan does not have any classes in the evening when I can make chapatis or spend a little more time in kitchen. While trying to come up with more easy recipes, I realized making bread was actually much easier compared to making chapatis. Most of the hard work is done by my KitchenAid stand mixer. I just have to shape it and bake in oven. So I am making sure atleast one day of the week we eat pizza or bread. That is how it started and now I am totally into bread making!. My latest creation was this pesto filled flower shaped savory decorative bread.
From last few months, I was noticing amazing breads baked by Finla and Aparna. I finally asked Finla about these breads and she pointed me to the FB group We Knead to Bake started by Aparna. Here the members bake one bread every month, Aparna posts the recipe every month and everyone bakes it and posts it on a set date. It was just the thing I was looking for. I requested to join the group and Aparna was very kind to accept it. This month the members were asked to bake a savory decorative bread. I googled for ideas and this nutella bread caught my attention. It looked so beautiful and easy to make. I used store bought basil pesto instead of nutella because my child loves basil pesto.
Pesto Filled Bread - Savory Decorative Bread
A savory decorative bread that is layered with basil pesto and mozzarella cheese. It is full of flavors because of pesto between all the layers
Ingredients
For bread
2

and 1/2 cups wheat flour

atta

1

and 1/2 to 2 cups all purpose flour

2

cups

water

1

packet

2 and 1/4 tea spns active dry yeast

1

tea spn honey

2

tea spns olive oil

Salt
For Stuffing
Butter

1/2

cup

basil pesto

or any strong flavored chutney

1/2

cup

grated mozzarella cheese

optional

Cherry tomatoes

optional
Instructions
Microwave water for about 20 secs (or just heat it up till it is lukewarm).

Add honey and active dry yeast and keep it aside for about 10mins till the yeast activates (the mixture becomes frothy).

Add salt, olive oil and wheat flour. Mix till all the wet ingredients are incorporated into flour.

Now add all purpose flour, 1/2 cup at a time till it forms a uniform and non sticky dough.

Take a tea spn oil in a bowl, keep the dough and swirl it around to coat the dough.

Cover with a damp towel and keep it aside for around 1 hr till dough is doubled in volume.

Punch down the dough and cover it back.

After around 1 hr, it would have doubled again.

Punch it down and knead it to make a smooth ball.

Preheat the oven at 350F.

Cut into two equal parts. Save one for later.

Make 6 equal balls from one half. Roll each ball into a 8-9" disc.

Take one disc, spread pesto and mozzarella cheese on pesto.

Keep the next disc on top. Spread pesto and mozzarella cheese on top.

Repeat till all discs are done.

Cut and decorate as shown in pictures (or

refer video

).

Mark a round in the center. A glass can be used to do this.

Then with a sharp knife, make 16 cuts from the circumference of the circle to the edge like shown in picture.

Carefully lift two adjacent pieces and twist them in opposite direction. Then stick the ends together.

Top with cherry tomatoes.

Cover the bread with damp towel and leave it aside to rise for another 45mins.

Brush with butter or eggwash (eggwhite + little water) and bake at 350F for about 30mins or till bread is baked through.